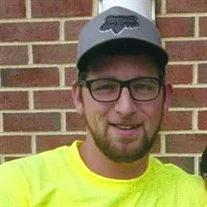 Micheal Lee Dodson, Jr., 28, of Saint Leonard, MD died on February 7, 2022.

Micheal was born on June 3, 1993, in Clinton, MD he was the son of Micheal Lee Dodson, Sr. and Cheri Ann (Foster) Grinder and Bonus Dad Jerry Grinder.
Micheal was a motorcycle mechanic for Atlantic Cycle and Power, he had a passion for not only working on them but riding them as well. He was adventurous and loved being outside fishing and spending time with the squad. He was always cracking jokes in order to make himself the center of attention. Micheal was an incredible dad, he considered it truly a blessing to be the father to those boys and his soon to be daughter. He was very close with his family but was a Mama's Boy at his core. Micheal will be remembered as being one of a kind, as his son Mason said his heart was a blessing to this world.

He is preceded in death by his grandparents; Richard Dodson, Richard " Pappy " Henderson, Patricia Campbell, Keith Campbell, Julia Foster and Selma Doctrow, and his fiancée's father, John Sherbert.

In addition to his parents, he is survived by his fiancée, Nicole Marie Sherbert, son's; Kydin, Mason Lee, and Travis Alan, soon to be daughter, Graceleigh Ann, brothers; Kyle, Dylan, Derek, Nicholas, and Jacob, sister, Destiny, grandparents; Catherine Dodson, and Maurice Foster, and his fiancées mother, Joan Sherbert. Loved by all his aunts, uncles, cousins and many friends.

At this time all services are pending, please check back for full details.