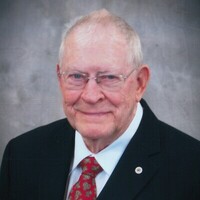 Albert Victor "Vic" Estep, Jr., 92, of Charlotte Hall, MD, passed away peacefully surrounded by his family on Saturday, February 5, 2022 at his home. He was born on September 5, 1929 to the late Albert Victor Estep, Sr. and Clara Belle (Canter) Estep.

After graduating from Hughesville High School, Vic would go on to serve his country. He would spend the next two years making his country and family proud. He was a distinguished veteran of the Korean War and received a Bronze Star and the United Nations Service Medal. Vic would return home to Maryland with an honorable discharge to live out his life as a proud American.

Vic met the love of his life Mary Katharine Gough and she would happily change her last name to Estep in 1953. Their love story was inspirational and they welcomed five children into their blessed union, Deborah, James, Diane, Christopher and Michael. They were married for over fifty-nine years before she passed in 2012.

He would continue to work for the government as an Engineering Technician for the Naval Ordinance Station. He met so many wonderful people throughout his career and felt blessed to be able to provide his family a good life. He retired after thirty-nine years to spend his time with family. He enjoyed being a life member of both the American Legion Post 238 and Dr. John Griffin Knights of Columbus Council 2293.

A kind, fun and hard-working man, Vic was the steadfast pillar of his family. He was a devoted husband, father, brother, grandfather and great-grandfather. He never turned down the opportunity to support his kids during their activities and continued to show up for every generation and was the proudest spectator on the sidelines. When the ground would thaw in the spring, he looked forward to gardening and found great joy in the growing of vegetables for his family and friends. Vic enjoyed working on the farm and spending his time outdoors. He found great peace in the evenings watching for deer in his fields.

Whether you knew him as Albert, Vic, Dad or Grandpa/Granddaddy you were blessed to know a true gentleman. Although he has left many to miss him, his family is finding solace in knowing he is now rejoicing in heaven with his beloved wife, after all he would do ANYTHING for Mary Katharine.

Vic is survived by his children, Deborah Estep Bellevou (Dennis), Diane Louise Bustin (David), Christopher Alan Estep (Susan), Michael Joseph Estep, daughter-in-law, Darlene R. Stickel; six grandchildren, Kimberley Estep Sheckells, Mary Katharine "Katie" Polk, Dana Victoria Bustin, Keith Andrew Bustin, Emily Rose Estep and Garrett James Estep; ten great-grandchildren. He is also survived by his brother, James Levin Estep (Dorothy) and many beloved step-grandchildren and step-great-grandchildren. He was preceded in death by his parents and beloved wife, Mary Katharine; son, James Edward Estep and his lifelong friend, George Hancock that introduced him to his bride so many years ago.

The family will receive friends on Friday, February 11, 2022 from 5:00 p.m. to 8:00 p.m. with a Prayer Service at 7:00 p.m. at Brinsfield Funeral Home & Crematory, P.A., 30195 Three Notch Road, Charlotte Hall, MD 20622. A Mass of Christian Burial will be held on Saturday, February 12, 2022 at 10:00 a.m. at St. Mary's Catholic Church, 13715 Notre Dame Place, Bryantown, MD 20617. A Graveside Service with Military Honors will follow immediately in the Church Cemetery, 13715 Notre Dame Place, Bryantown, MD 20617.

In lieu of flowers. contributions can be made to St. Mary's Church Restoration Fund in Bryantown or your favorite non-profit that supports military veterans.