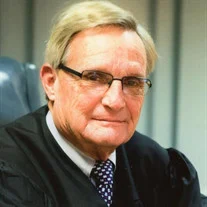 The Honorable Thomas Raymond Simpson Jr., a retired associate judge of the Circuit Court for Charles County, died peacefully on Jan. 26 at his home in Bluffton, South Carolina. He was 74.

Formerly of Port Tobacco, Judge Simpson was born in Washington, D.C., on May 12, 1947, to the late Thomas Raymond Simpson and Joyce Bean Simpson. A respected jurist and general practice attorney for 42 years, Judge Simpson was elected by Charles County voters to serve on the 7th Judicial Circuit in 2014. He retired in 2017 but continued to serve part-time until 2020 when he relocated to South Carolina.

Colleagues remember him as a fair, honest practitioner who, as a small-town attorney, had seen it all and truly represented his clients. He also served as a Juvenile Causes Master from 1974-1980; an assistant county attorney from 1987-2005; and a court auditor from 2001-2014. In 2010, the Maryland Volunteer Lawyers Service honored him with the 10-year Volunteer Award, recognizing him as an exceptional attorney who provided pro bono legal service and justice for its clients.

Judge Simpson earned his undergraduate degree from Wheeling College in 1969 and his Juris Doctor degree in 1972 from the University of Tulsa College of Law. He was admitted to the Maryland Bar in 1973.

A proud Marine who served in the Marine Corps Reserves from 1970-1976, Judge Simpson was known for more than his legal work. He was a former president of the Rotary Club of Charles County, which recognized him for having perfect attendance from 2008 until his retirement and honored him as a Paul Harris Fellow for his contributions to the club's charitable and educational programs. Additionally, he worked with high school students on Mock Trial teams and frequently volunteered as a coach, official, or timer at his children's sporting events. He also had a passion for golf, love of family, watching local sports teams, vintage cars, and traveling.

Judge Simpson is survived by his wife of 39 years, Katie O'Malley-Simpson, and four children: Andrew G. Simpson (Sook Fan); Megan Donnick (Dan); Matthew T. Simpson; and Molly K. Reip (Brian). He is also survived by four grandchildren, Adeline and Jackson Donnick, and Preston and Lauren Simpson, and three siblings, John "Jack" Simpson, Patricia S. Arata, and Suzanne Horkey.

Visitation is Tuesday, Feb. 8, from 2-4 p.m. and 6-8 p.m. with a 7 p.m. Prayer Service at the Raymond Funeral Service Chapel, 5635 Washington Avenue, La Plata. A Mass of Christian Burial will be offered at 10 a.m., Wednesday, Feb. 9, at St. Ignatius Catholic Church-Chapel Point, where Judge Simpson was baptized more than 70 years ago. Interment will be in the church cemetery.

In lieu of flowers, the family welcomes memorial contributions to the Charles County Rotary Foundation, Attn. Scholarship Fund at P.O. Box 1925, La Plata, MD 20646, or to the St. Ignatius Building/Renovation Fund at 8855 Chapel Point Road, Port Tobacco, MD 20677.