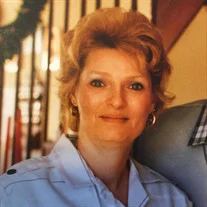 Sandra Lee Taylor, 75 of Waldorf Maryland, has passed away on Tuesday, January 25, 2022.

Born on July 4, 1946 in Washington, D.C. she was the daughter of the late George and Doris Sydnor. Sandra was a Medical Administrator for over 20 years. She spent her spear time cooking, reading and vacationing at the beach. Most of all she loved being with her family. Sandra was a member of St. Peter's Church in Waldorf Md.

Sandra is survived by her loving husband Joseph Taylor; daughters Jenny Lindenbaum and Lee Ann Stone. Grandchildren Christopher Edwards wife Jael Edwards, Jenna Jordan husband Alex Jordan, Kyle Norcott, Meghan Marden husband Devon Marden ; great grandchildren Kolson Marden, Gracie Joe Marden and Emma Rose Edwards. Brother Gary Sydnor wife Sue Sydnor. Extended family Regina and Annie Ruckman and many other family and relatives.

A gathering will be held on Tuesday February 1, 2022 from 10AM until time of Memorial Service at 12noon at Raymond Funeral Service P.A. 5635 Washington Avenue, La Plata Maryland 20646.

Interment to follow at Trinity Memorial Gardens, 3221 Mattawoman-Beantown Road, Waldorf, Maryland 20601.

Memorial contributions may be made to American Cancer Society, P. O. Box 22718, Oklahoma City, OK 73123-1718 or to the American Society for the Prevention of Cruelty to Animals (ASPCA), 424 E. 92nd Street, New York, NY 10128-6804.