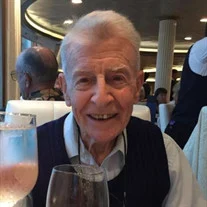 Lt Col John R. Albright, USAF (Ret), of Dunkirk, Maryland, passed away peacefully on January 25, 2022, in his home, surrounded by loved ones.

Born in 1928, John was raised in New Jersey and Connecticut with his brother and two sisters. After attending High School in Connecticut, he enlisted in the Army and served in the 19th Infantry Regiment in the Army of Occupation, Japan.

He received an honorable discharge and returned to New Jersey to attend Newark College of Engineering (currently, known as NJIT).

In June of 1952, John received a Bachelor of Science degree in Mechanical Engineering, a regular commission as a second Lieutenant in the Unites States Air Force, an assignment to pilot training and married Elenore Felber of Maplewood, New Jersey. He and Elenore had gone to Saint Joseph's Grade School together (Elenore was two years behind him and a classmate of his sister.) Their marriage was blessed with seven children, Jack (Laura), Terry (Freddy†) DiZebba, Ann (Zubair) Habib, Jim (Irma), Margaret (Dan Matthews), Joe and Julie, 18 grandchildren, and 25 great grandchildren.

During his 25 years in the Air Force, John was stationed in West Palm Beach, Florida, for five years flying B-50's and completed four 6-month deployments - two to Alaska and two to Philippines. He entered the Air Force Institute of Technology in 1960 and graduated in 1962 with a Master of Science Degree in Aeronautical Engineering. He served as Director for Test and Deployment in the XB-70 System Program Office in Dayton, Ohio, and then as Chief of Engineering for the Air Force A 7D Aircraft in the joint Navy/Air Force Program Management Office in Washington, D.C. His next assignment was as a forward Air Controller and Air Liaison Officer in Vietnam flying the O-1 Aircraft from August 1968 to August 1969. Upon his return from Vietnam, he was assigned to the Pentagon and subsequently to Air Force Systems Command at Andrews Air Force Base, from which he retired in 1977.

In 1977 he began his career with Veridian-then known as Veda. His first assignment was to write a manual on FMS Pre-Case for the F-14 Class Desk. During the next 20 plus years, he held several additional positions supporting the F-14 and the F/A-18.

John taught CCD at Holy Spirit Church from the 1970-72. He was a Special Minister of the Eucharist for eight years at Holy Spirit Church. President of the Fathers' Club of Bishop McNamara High School and a member of their Board of Directors.

John joined the Knights of Columbus in 1959 in Albany, Georgia and transferred into Saint Pius X Council in Forestville, MD in 1970. He received his Fourth Degree and became a charter member of Bishop Walsh Assembly. He immediately became active and served as Purser and then went through the Chairs of Assembly. He began his service in St. Pius X serving coffee and ice-cream at the Boys and Girls dinners. He proceeded to Council Activities Director and Oktoberfest Chairman and rose through the Chairs, becoming Grand Knight in 1977.

John served three years as District Deputy before being appointed Master of the Fourth Degree for Maryland District 2 (now the Washington Archdiocese District) from 1984-1988. In 1988 John was elected State Warden of Maryland, worked through the State Officer Positions and was elected State Deputy in June 1996.

In 2000, John and Elenore moved into their empty nest retirement home in Dunkirk, Maryland. There they enjoyed the visits of their children, grandchildren,and great grandchildren. They also enjoyed the beauty and peacefulness of their wooded lot, viewed best from the deck, with a cup of coffee. John was proud to have a home large enough to host all the family holiday parties.

John was predeceased by the love of his life, Elenore; his parents, William, and Gertrude; his brother, Bill; his sisters Mary Greenwald and TrudyKohaut; his sister-in-law Irene Felber; his brothers- in- law Bob and Joe Felber, Doug Mohrhauser, Bob Greenwald, and John Kohaut; a granddaughter, Daniah; and son-in-law Fred DiZebba.

John would not want anyone to put themselves at risk of getting Covid so for those who are uncomfortable in public gatherings the service will be live streamed at https://www.youtube.com/c/JesustheGoodShepherdCatholicCommunity

The family welcomes all who wish to come, but asks that everyone please mask and respect social distancing.

Visitation will be on Tuesday February 1stat 10 am, followed by the funeral Mass at 11:30 at Jesus the Good Shepherd Catholic Church, 1601 W Mt Harmony Road, Owings, Maryland 20736.

Burial service with Military Honors will be at Jesus Good Shepherd Cemetery, February 3, at 10:30.
John enjoyed his hot coffee and chilled Guinness. Please raise a toast to him- with hot coffee, a Guinness, or whatever your favorite beverage.
.
In lieu of flowers you may send donations in his memory to:
Disabled American Vets Charitable Service Trust: https://cst.dav.org/
Knights of Columbus Charities: https://www.kofc.org/en/charities/knights-of-charity.html
Alzheimer's Association, https://act.alz.org/, Home Office 225 N. Michigan Ave., Fl. 17, Chicago, IL 60601.

The family requests masking and social distancing.

The family hopes to host a celebration of life in early summer for friends to remember and honor John's legacy.