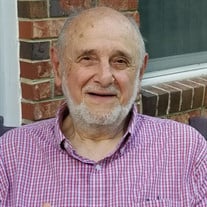 Peter W. Troiano, 81, of Waldorf, Maryland died January 23, 2022 at the Hospice of Chesapeake House in Pasadena, Maryland. He was the husband of Edna Troiano and father of Danielle and Leo Troiano.

Born June 6, 1940, in Vandergrift, PA, Pete was the son of the late Robert and Sarah (Troilo) Troiano. He is predeceased by his brother Robert Troiano, his sister Rochelle Young, and his niece Rochelle Young.

He is survived by his wife Edna, his children Danielle and Leo, and his beloved nieces and nephews—Becky Young, Jimmy Young, Billy Young, Dayle O'Neill, Robin Medve, Cheryl Godbey, and Robert Troiano—and their families.

Pete graduated from St Vincent's Preparatory School in 1958. Intending to enter the priesthood, he entered the Pontifical College Josephinum, but later decided to change directions. He earned a BA degree in philosophy from Duquesne University in 1966 and a Master of Arts degree in English from Indiana University of Pennsylvania in 1974.

In 1971 he became a professor of English and supervisor of student teachers at Alliance College, in Cambridge Springs, Pennsylvania, where he met his wife, Edna. In 1976, the couple moved to Southern Maryland, where Pete taught first at Ryken and then at Charles County's Lackey High School.

His more than two decades teaching English and Latin at Lackey were the happiest of his career. His colleagues became his closest friends, and he developed close bonds with his students, many of whom remained in close contact with him throughout the years.

After a few years guiding students on tours through Europe, he developed an Italian exchange program, first in Salerno and then in Rome, so that students could experience another culture by living in people's homes.

Pete was an avid football Steelers fan, but he also supported the Lackey football team and attended most of their games. He followed political issues closely and loved discussing politics with his closest friends. Mostly, however, he loved cooking, not only the traditional Italian recipes his mother had taught him, but anything he thought his friends and family might enjoy. He watched cooking shows, read cooking magazines, and searched for recipes, all with the aim of entertaining and feeding friends and family.

In the months preceding his death, Pete felt that gathering was unsafe, so he asked that a memorial service be held in the spring, when it is safe for family and friends to travel.

If you would like to make a donation in his honor, consider his favorite, St. Jude's, or contribute to PancreaticCancer.org or to your personal favorite.