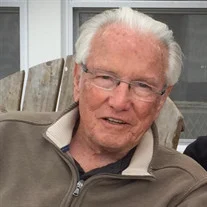 Vernon Clyde Cookmeyer, 94 of Newburg, Maryland died on January 20, 2022 at Sagepoint Senior Living Services in La Plata, Maryland.

Vernon was born on May 28, 1927 in New Orleans, Louisiana to the late Ruth and Joseph Cookmeyer.

Vernon didn't meet anyone he didn't like; everyone was welcomed in his home. He loved to dance and was always building something out of nothing, willing to share anything he had. He loved gardening, especially tending to his beloved orchids.

Vernon was a World War II veteran, serving in the U.S Navy.

In addition to his parents, he is preceded in death by his wife, Frances Ann (whom he raised five children with) and son, Cameron Paul Cookmeyer.

He is survived by his son, Kevin Cookmeyer; daughters, Reta Wood, Mindy Hardenburgh, and Holly Shaver. He is also survived by four grandchildren and three great-grandchildren.

A direct burial is scheduled for Wednesday, February 23, 2022 at 9:45AM at MD Veterans Cemetery, 11301 Crain Highway, Cheltenham, Maryland 20623.

Memorial contributions can be made in his name to: MD Veterans Memorial Museum, 11000 Crain Highway, Faulkner, MD 20664 and Lymphoma Society, 3601 Eisenhower Avenue, Suite 450, Alexandria, VA 22304.