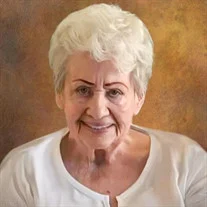 Mabel Eugene "Gracie" Sigmon, 82, of Indian Head, Maryland, passed on January 17, 2022.

Born on July 4, 1939 in Washington, D.C., Gracie was the daughter of the late Myer Fox and Margaret (Wilhelm) Fox.

Gracie was a dedicated Administrative Clerk for Local 2 at IAMAW, starting in Washington, D.C. in 1973 and moving to Upper Marlboro, Maryland, where she retired in 1997. She loved the Washington Redskins, camping, and playing cards. Some of her favorite television shows include Wheel of Fortune, soap operas, Gunsmoke, and the classic game shows. Gracie's greatest love was her family.

In addition to her parents, Gracie was preceded in death by her one and only true love of 65 years, Ernest L. Sigmon, Sr.; and her brother, Junior Fox.

She is survived by her brother, James (Karen) and sister Margaret; son Edward Sigmon, Sr., daughter Mabel Gatton, son Ernest Sigmon, Jr. and wife Mary, daughter Mary, daughter Linda and husband Gus, daughter Dawn and husband Tony, daughter Shirley and husband Jon; her beloved 19 grandchildren (Edward, Jason, Jessica, Christina, Ernest, Anthony, Brian, Frank, Nicole, Sabrina, Chase, Marie, Michael, Kevin, Michelle, David, William, Ashley and Jonathan); and 32 (and counting) great-grandchildren.

The family will receive family and friends at on Monday, February 7, 2022 from 2:00pm - 4:00pm and 6:00pm until time of Funeral Service at 7:00pm at Raymond Funeral Chapel, 5635 Washington Avenue, La Plata, Maryland 20646. Gracie will be laid to rest on Tuesday, February 8, 2022 at 10:30am at Cheltenham Veterans Cemetery, 11301 Crain Highway, Cheltenham, Maryland 20623, with her husband, Ernest L. Sigmon, Sr.

In lieu of flowers, memorial contributions may be made to Hospice of Charles County, online at https://hospiceofcharlescounty.org/giving/ and by mail at 2505 David Road, Waldorf, Maryland 20603 or to Boys Town, online at www.boystown.org/give and by mail at P.O. Box 8000, Boys Town, NE 68010.