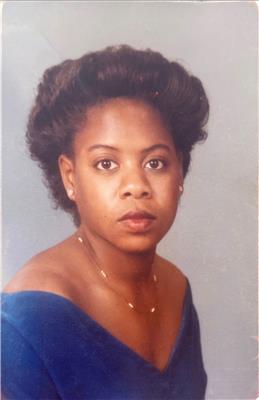 Crystal Marlene Armstrong, departed this life peacefully and was called to eternal rest on Thursday, January 20, 2022 at the University of Maryland Baltimore Washington Medical Center, Glen Burnie, MD. Crystal was born on November 8, 1967 to James William Blackiston, Sr. and Frances Yvonne Blackiston. She graduated from Leonardtown High School in 1985. She was married to Marvin L. Armstrong on December 21, 1991 in Clements, MD. Crystal served in the United States Army and was honorably discharged in 1988.

Crystal received the Lord Jesus Christ as her personal Savior in 1987. She was a faithful member at Victory Christian Ministries, International in Suitland, MD. She was also employed at Victory Christian Ministries, International. Throughout her life, she made many friends and was loved by many.

Crystal loved going to church, loved listening and singing Gospel music and directing her favorite choirs, loved watching her favorite television shows, and loved spending time with her family. Crystal was very happy, kind-spirited, and had a heart of gold. Crystal's wonderful memories will be cherished by all who knew her.

Crystal was preceded in death by her son, Joshua Armstrong; grandparents, George and Rosie Thompson, and Alice C. Stewart, and sister-in-law, Sondra Armstrong.

Crystal leaves to cherish her wonderful memories, her loving husband of 30 years, Marvin L. Armstrong of Hanover, MD; her parents, James W. and Frances Y. Blackiston of Leonardtown, MD; her grandmother-in law, Jane Catherine Taylor of Loveville, MD; her parents-in-law, John Swales and Rebecca Armstrong of Mechanicsville, MD, and James M. Stewart of Capitol Heights, MD; her godmother, Marguerite E. Barnes; her beloved siblings, Faye Blackiston of Washington, DC, Rodney X. Thompson, Sr. (Cynthia) of Great Mills, MD, James W. Blackiston, Jr. of Oxon Hill, MD, and Ronan C. Blackiston (Subrena) of Great Mills, MD; one brother in law, Anthony Swales of Waldorf, MD; three nephews, Jerry Blackiston (Kamilah), Rodney X. Thompson, Jr. (Ebony) and James W. Blackiston, III; four nieces, Tearra Maddox, Kirsten Williams (Brad), Keana J. Thompson, Lakia Blackiston, Jazlynn Swales, and Jade Swales; and a host of family and friends

Family and friends will unite on Friday, January 28, 2022 for visitation at 10 am until time of service at 11 am at Gospel Tabernacle of Prayer Church, 24516 Budds Creek Road, Clements, MD 20624. Interment at Cheltenham Veterans Cemetery at a later date.