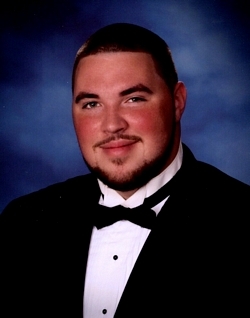 Joseph James "Big Joe" Oakes, 19 of Lexington Park, Md. passed away tragically on January 12, 2022 in Lexington Park, Md. He was born on November 20, 2002 in Leonardtown, Md. to Latoya Mason and Larry Amos, Jr.

Big Joe was a 2021 graduate of Great Mills High School where he participated in NJROTC and the Great Mills High Football Team. He also played with the Pax River Raiders Football Team, enjoyed helping his mom with feeding the homeless, was a member of the Mechanicsville Worship Center and a long time alumni of Camp Crazy Faith.

Big Joe is survived by his mother, Latoya Mason (James Barber) of Lexington Park, Md.; father, Larry Amos, Jr. (Jenny Avena) of Lusby, Md.; grandparents, Jerry and Michelle Clark of Lusby, Md., and David and Stephanie Blake, Sr. of Lusby, Md.; girlfriend, Nyia Weems; siblings, Jordan Hutchinson, Sirus Armstrong, Serenity Thompson, James Barber, Jr., Savannah Barber, India Amos, Bryan Amos, Isabella Avena, Daimyon Wood, and Keyon Jasey; uncle, Brad Clark and aunt, Angela Potter. He was proceeded in death by father figures, Charles Hutchinson and Jason Armstrong.

The family will receive friends on Sunday, January 23, 2022 from 1:00 pm until 3:00 pm in the Rausch Funeral Home, 20 American Lane, Lusby, Md. A Life Celebration Service will be held on Monday, January 24, 2022 at 10:00 am in Dominion Apostolic Ministries Church, Lexington Park, Md. with Pastor John Smith officiating. Interment will be private.

Condolences to the family may be made at www.rauschfuneralhomes.com.