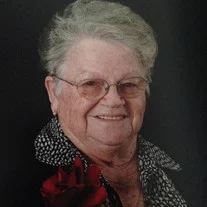 Longtime Charles County, Maryland resident Dot Behrens (Owen) passed away on January 13, 2022 in La Plata, Maryland.

She was born on June 22, 1933 in Ben Hill, Georgia to the late George Owen and the late Bonnie Mildred Owen (Bryan).

Dot raised her family of six children in Piscataway, Maryland. She and her husband, Jim Haynes, owned Haynes Construction and later moved to Cobb Island, Maryland, where she and Jim owned and operated a restaurant known as "Dot & Jim's." She retired from the Charles County Board of Education, where she was employed as a School Bus Driving Trainer. She later married Dutch Behrens, of Cobb Island, Maryland, and they retired to The Plantation at Leesburg, Florida. She loved to golf and play darts, as well as play board games with her friends. She enjoyed cooking, crocheting, and playing the slots.

In addition to her parents, Dot is preceded in death by her husband, James D. Haynes; her husband, Dutch Behrens; and two sisters, Evelyn Owen and Barbara Ann Flannery (Owen).

Dot is survived by her children, George Haynes and his wife Barbie, Ruth Ann Hillberry and her husband John, Bill Haynes and his wife Mary Kaye, Doug Haynes and his wife Laurie, Bonnie Haynes, Ronnie Haynes and his wife Stephanie, and Dutch's daughter, Jan DeYoung and her husband Don. She is also survived by her brothers, Richard Owen and his wife Maureen, and Guy Owen; 16 grandchildren; and 41 great-grandchildren.

Dot will be buried at Cheltenham Veterans Cemetery in Cheltenham, Maryland, with her husband, Dutch Behrens, at a later date.

Dot's greatest love was her family and she had many great friends that she made in both Maryland and Florida.

She was loved and will be missed!

The family is planning a Celebration of Life ceremony to take place later this spring. Please check back as details of the ceremony will be posted when they become available.