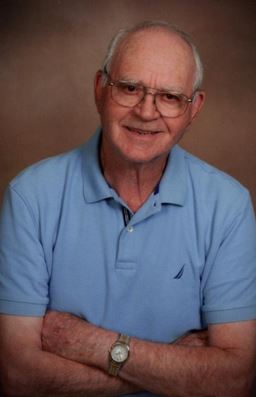 Charles "Shorty" Norman Kirby, Sr., 87, of Prince Frederick passed away peacefully on January 7th, 2022 with his family at his side. Shorty was born and raised in Bland County Virginia by his parents John Charles and Annette (Christian) Kirby. Following his Uncle Joe who was in the logging industry, the Kirby Family moved to Calvert County, MD in 1947 where Shorty would attend and graduate from Calvert High School in 1952.

Shorty had a strong passion and appreciation for bluegrass music and enjoyed every chance to play with his close friends and family. His love and talent for bluegrass gave him the opportunity to travel and play with bluegrass legend, Earl Taylor from 1953 to 1954.

After a few years on the road, Shorty returned home to Calvert where he and his brother, Ed, managed and operated a local gas station on 231 until Shorty was drafted into the Army. Shorty honorably served as a paratrooper in the 11th Airborne Division in Germany from 1956-1959.

Upon his return from the service, Shorty was set up on a blind date with Mary Frances, by her aunt Annie Mary. Shorty and Mary Frances met up, for what would be the first of many dates, at Cliffs Hotel. On September 23rd, 1961, they married. The couple made their home and started their family in Saint Leonard MD, where they had 2 beautiful boys, Charles "Chuck" Norman Kirby Jr. and Gary Lee Kirby.

Family was of utmost importance to Shorty, and he always prioritized his time to ensure he could play an active role in his sons' extracurricular activities. Shorty and Mary Frances led Sunday school, chaperoned many youth group trips, taught karate for the Calvert County Parks and Recreation at Calvert High and Mutual Elementary, and spent many seasons coaching little league baseball for the Wallville Cardinals.

For the better portion of Shorty's career, he served as a Technical Service Manager at Gerard Motors from 1959 through 1981 where he took pride ensuring good, honest service for his and the company's loyal customers. Greatly admired by his boys, Shorty soon realized he couldn't keep their hands out of the toolbox for much longer. It was then when Shorty left Gerard Motors to open his own shop at home, Charles Auto Service. Shorty chose to work out of the house so he could continue working and training alongside his sons until he retired.

Moving to Rileyville, Virginia, Mary Frances and Shorty enjoyed retirement where Shorty filled his days tending to his perfect lawn, fishing, and enjoying the Shenandoah River.

In 2009, Mary Frances and Shorty returned to Calvert County moving into the Chapline community where Shorty was always willing to lend a helping hand to the neighbors. Shorty always spoke highly of the great friendships they made there.

Shorty is survived by his son Chuck Kirby and his wife Kim; grandsons Eric Kirby (Tara) and Jason Kirby (Megen); and, great-grandchildren Addison, Austin, and Ashton Kirby. He is also survived by his sisters Eula M. Catterton, Mary Diane Wells (Hugh), and Hazel M. Williams, as well as many nieces and nephews. He was preceded in death by his parents, John and Annette; wife, Mary Frances Kirby; youngest son, Gary Kirby, and brother Ed Kirby.

The time during his illness was spent sharing stories and telling jokes. He so enjoyed having family and friends visit, and was so thankful for the endless love and care. His final moments were spent listening to his favorite recorded performance by his son and closest friends, pickin' and grinin'.

Arrangements for a celebration of life will be determined at a later date.