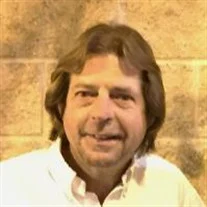 David Lee Hughes Jr. of Waldorf, MD passed away on Sunday, January 9, 2022, after a three-year battle with pancreatic cancer. David was born on September 4, 1960, to mother Alberta Santora and father David Hughes Sr.

David had a true devotion for his life-long trade of printing. He also developed a passion for landscape design and was the owner and operator of DL Hughes Groundworks (est. 2014) where he and his daughter Alyson worked together to fine-tune their craft. Affectionately known as "Dr. Dave" and "Super Dave" he had a natural ability as a people-person and a one-of-a-kind sense of humor. Dave was also a thrill-seeker with a love of all things Harley Davison (including his own bike), appreciated the opportunity to dress to the 9s, and had a minor obsession with The History Channel. David loved his family whether it was a holiday dinner, talking about "old" music with his nieces and siblings, buying his grandson his first leaf blower, or simply calling his daughters to check in.

He is preceded in death by his daughter, Alyson Hughes, and father. David is survived by his daughter, Ashleigh Hughes, mother, Alberta Santora, and brothers Doug "DL" Hughes (Bethany) and Donald Hughes (Barbara), and nieces Lorraine Hughes and Jeanie Hughes.

A visitation will be held on Thursday, January 20, 2022 from 10AM until time of service 12Noon at Raymond Funeral Service, P.A., 5635 Washington Avenue, La Plata, Maryland 20646.

Interment to follow at Trinity Memorial Gardens in Waldorf, Maryland 20601.

In lieu of flowers, the family is requesting donations be made to Hospice of Charles County, 2505 Davis Road, Waldorf, Maryland 20603.