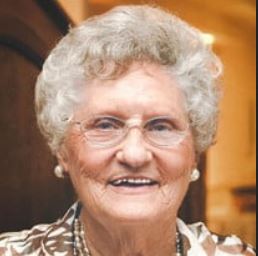 Joyce Marie Bean Simpson, 95, of Waldorf, Maryland, peacefully passed away on January 3, 2022, in Bluffton, SC. She was many things to many people, but most of all, as the Simpson family matriarch, Mrs. Simpson was a wife, mother, mom-mom, and great-mom-mom. She was a historian, a community volunteer, and often the life of the party.

Born August 25, 1926, she was the daughter of the late Carlton Elliott Bean and Margaret Iola Trotter. As a life-long resident of Waldorf, she was its unofficial historian and the go-to source for local reporters and newcomers interested in Charles County and Waldorf history. She eagerly shared her photos, documents, and knowledge with anyone interested in her beloved community. She belonged to the Port Tobacco Chapter National Society Daughters of the American Revolution, Colonial Dames XVII Century, the Catholic Daughters of the Americas, the Ark and Dove Society, and numerous other community organizations and clubs.

She is predeceased by her husband of more than 50 years, Thomas R. Simpson, whom she married on June 30, 1945. She is survived by her four children, Thomas R. Simpson, Jr. (Katie), John (Jack) A. Simpson (Barbara), Patricia Simpson Arata (Hal), and Suzanne Simpson Horkey (Jeff). Nine grandchildren and five great-grandchildren also survive her.

Mrs. Simpson was predeceased by her brother, Robert Bean, and sisters Eleanor Mae Williams, Kathryn V. Martin, and Mary Burch. She is survived by her sisters Margaret Alyce Stifter and Anna Norris.

She was known as a lively, lovely, and fun person, and she attended events that supported her clubs and volunteer work. She was a well-known fan at Charles County swim meets and watched several generations of family swimmers compete, including her grandchildren and great-grandchildren.

Mrs. Simpson was an avid volunteer. When her children were young, she managed carpools and jumped in as a 4-H leader, Little League mom, and Girl Scout leader. Mrs. Simpson was a homemaker, and her children often teased that she was so busy volunteering that she had no time for a job outside the home.

Mrs. Simpson was passionate about helping people. For more than 30 years, Mrs. Simpson volunteered at the local hospital now known as Charles Regional Medical Center. She began volunteering in 1969 as a "Gray Lady," which was a Red Cross program that evolved into the hospital's auxiliary. She served on the Civisita Health Foundation and volunteered at the hospital reception desk. During her more than 30 years as an auxiliary member, she logged 3,444 volunteer hours. In 2005, she earned a Silver Threads Award for Senior Achievement in Health Care from Senior Services of Charles County, Inc.

In 2006, Mrs. Simpson was honored as runner-up by the Charles County Commissioners and Maryland Governor in Charles County's Most Beautiful Person recognition. The volunteer awards program honored the county's unsung heroes who generously volunteered their time, energy, and talents to help make Charles County a better place to live, work and visit. She
also was recognized in the Maryland Senior Citizens Hall of Fame, Inc. for her volunteer service
in 2008.

Visitation is Wednesday, Jan. 12, from 2-4 p.m. and 6-8 p.m. with a Prayer Service at 7 p.m. at the Raymond Funeral Service Chapel, 5635 Washington Avenue, La Plata. A Mass of Christian Burial will be offered at 10 a.m., Thursday, Jan 13, at St. Peter's Catholic Church in Waldorf, where Mrs. Simpson was a longtime parishioner. Interment will be in the church cemetery.

In place of flowers, the family welcomes memorial contributions to St. Peter's Catholic Church at 3320 St. Peters Dr., Waldorf, MD 20601, or the Port Tobacco Chapter National Society Daughters of the American Revolution (DAR) at 8603 Paps Parkway, La Plata, MD 20646-4420.