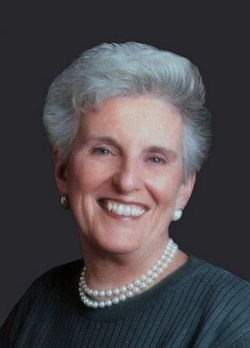 Gerarde "Gerry" Query Barth of Solomons, Md., passed from life to eternal life to be with our Heavenly Father on January 5, 2022, after a joyous and fruitful 87 years. She died at home with her devoted husband of 64 years, Joe, at her side.

A loving and treasured wife and mother of six, Gerry was born and raised in Norfolk, Virginia, which is also where she met and married the love of her life, Lieutenant Junior Grade Joe Barth of the U.S. Navy. Over the course of their first 32 years together, they travelled the United States and abroad following Joe's naval career. Always supportive of her husband's endeavors, Gerry made dozens of moves with their children and turned every duty location into a warm and loving home for their family. After Joe retired from the Navy in 1984, the two of them settled in Arlington, Virginia, where they remained for the next 31 years. Over that period, they enjoyed spending time with their family and friends, traveling together, their membership at the Army Navy Country Club, and a myriad of other activities in the Washington, D.C. area. An active member of St. Agnes Catholic Church, Gerry volunteered with Meals on Wheels delivering food to those in need for over 20 years. Leaving their long-time residence and dear friends behind, Gerry and Joe recently moved to Southern Maryland to be closer to many of their children and grandchildren.

Gerry is survived by her husband, Rear Admiral Joseph John Barth Jr., U.S. Navy (Retired); sisters, Marie and Margaret; her children, Joanne (Joe), John (Dottie), Helene (Steven), Stephen (Sue), and Marie (Dave); 16 grandchildren; and, 9 great grandchildren. She is predeceased by her beloved son, Andrew (Anne), and her siblings, Randolph, Lyons, and Aubrey.

Family will receive friends on Tuesday, January 11, 2022 from 5:00 p.m. until 8:00 p.m. at Rausch Funeral Home, 20 American Lane, Lusby, Md. 20657. A Mass of Christian Burial will be celebrated on Wednesday, January 12, 2022 at 11:00 a.m. at Our Lady Star of the Sea Catholic Church, Solomons, Md. Interment will follow in Jesus the Good Shepherd Cemetery, Owings, Md.

Condolences to the family may be made at www.rauschfuneralhomes.com.