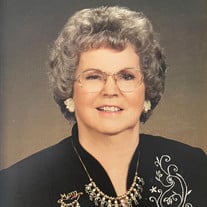 Mary Sue Palmer Rye of Nanjemoy, MD, was born November 30, 1935 in Snow Hill, Arkansas. She and her husband Delbert Rye were married November 14, 1952 in Westlake, LA. Mary Sue was a devoted wife, mother and grandmother. Her hobbies were cake decorating, painting, playing the piano and playing Dominos with friends and family. She was preceded in death by her husband Delbert Rye and daughter Debra Sue Rye Howe.

Mary Sue worked for the Charles County Board of Education for 30 years, where she met and worked with many wonderful people. She was a member of Nanjemoy Baptist Church since 1955 and also attended Marbury Baptist Church and Chicamuxen Church. At Nanjemoy Baptist Church she was a teacher, children's music director and adult choir director. She accepted Jesus Christ as her Savior at the age of 8 years old in Snow Hill, Arkansas, and was Baptized in the Ouachita (Wash -i-taw) River. Sue's hopes and prayers are that each and all of her children, grandchildren and great grandchildren will all accept Jesus Christ as their Savior and will join Delbert and Sue, in Heaven one day.

She is survived by her sons Bruce Rye, Kerry Rye, wife Amy Rye, Kent Rye, wife Diana Rye, Grandchildren Wendy Owen, husband Bobby Owen, Amy Rye, Ben Greene, Steve Rye, wife Samantha Rye, Beth Shamka, husband Tim Shamka, Lauren Rye, Tyler Rye, Katelyn Rye, Jake Rye, wife Hannah Mahon, and Molly Rye, great grandsons Justin Owen, Joey Owen, Brayden Cattlet, Cameron Rye, and Finn Rye.

A visitation will be held on Wednesday, January 5, 2022 from 6PM to 8PM with a Prayer Service at 7PM at the Raymond Funeral Service Chapel, 5635 Washington Avenue, La Plata, MD 20646

Visitation will also be held on Thursday, January 6, 2022 from 10AM until time of Service at 11AM at Marbury Baptist Church, 4670 Bicknell Road, Marbury, MD 20658. Due to the recent snow storm, the place for Mrs. Rye's service has been changed. Please take note. Thank you!

Interment to follow at Nanjemoy Baptist Church Cemetery in Nanjemoy, Maryland.

Memorial contributions may be made to Nanjemoy Baptist Church, 3030 Baptist Church Road, Nanjemoy, Maryland 20662 or to Marbury Baptist Church, P. O. Box 528, Marbury, Maryland 20658.