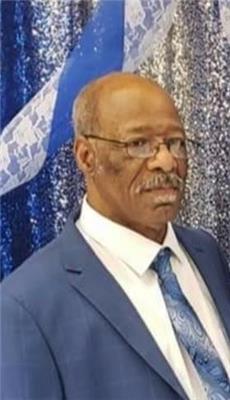 John Henry Price, Sr., known as "Son" or "Mr. Price", departed this life on December 27, 2021 at Med-Star St. Marys Hospital . John was born on March 16, 1947 in Leonardtown, MD to the late Ella Louise Wilson Price and the late James Ignatious Price, Sr. John was one of nine children.

John married his devoted and loving wife of 48 years, Agnes Marie Price in 1974. From this union, they were blessed with six wonderful children.

He received his education in the St. Marys County public school sytem. He worked for MWR at Patuxent River, MD for 39 years until he retired.

John was preceded in death by his mother, Ella Louise Wilson Price; father, James Ignatious Price, Sr.; sisters, Dorthy Elizabeth Barnes and Alice Bertina Wilson; two daughters, Jennifer Maria Price and Pam Elaine Price and best friend, Olli Grant Berry, Jr.

John leaves to cherish his memories his wife, Agnes Marie Price; one son, John Henry Price, Jr.; five daughters, Sheryl Christine Price, Saundra Marie Heard (Troy), Sheila Juanita Price; 8 grandchildren, Delonte Nolan (Marie) Canisha Carabello (Thamir), Daniel Scott, Kiyonna Lawrence, Anthony Briscoe, Tavon Briscoe, Marcus Price , Marcel Davis; five great grandchildren, Alexuyanna Caraballo, Alenya Caraballo, Alijah Scott, Aniyah Scott and Ayvion Briscoe; sisters, Mary Cutchember, Helen Price (Junior Shade), Mary Brooks and Mary White; two brothers, James I. Price, Jr. (Mary) and Thomas Price; four brothers- in-law and eight sisters-in-law, as well as a host of other relatives and friends. Family and friends will unite on Thursday, January 6, 2022 for visitation at 10 am until time of service at 11 am at Briscoe-Tonic Funeral Home, 38576 Brett Way, Mechanicsville, MD. Interment to follow at Charles Memorial Gardens, Leonardtown, MD 20650.