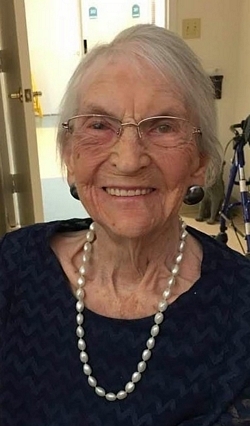 Virginia Shank DeBolt, 95, died peacefully December 31, 2021, in Solomons, Maryland. A native of Connellsville, Pennsylvania, second child of Frieda Rottler Shank and Herbert C. Shank, she was born on August 14, 1926, and graduated from Connellsville High School in 1944. In 1952, she married Francis Milton DeBolt (deceased) of South Connellsville, and began a 32-year life as a military wife and mother, until Francis passed away in March of 1986.

Prior to moving to Solomons, Virginia lived in Charlotte Hall, Maryland, and was a parishioner at St. Mary's Catholic Church, Newport, Maryland.

Virginia is survived by her children: Deborah DeBolt of Henderson, Nevada; Claudia DeBolt Williams (Bill) of Bella Vista, Arkansas; Daniel DeBolt (Mary) of Laurel, Maryland; Douglas DeBolt (Kathy) of Lusby, Maryland: Andrea DeBolt Larussi (Paul) of Hutto, Texas; and Christopher DeBolt (Joyce) of St. Augustine, Florida; nine grandchildren and seven great grandchildren.

Virginia was a pioneer in women's jazz bands and radio broadcasting in her 20s and 30s. She was a horseman, sharpshooter and champion tennis player. Later in life, she was a reporter and photographer for Shippensburg, Pennsylvania's News Chronicle, and Chambersburg , Pennsylvania's Public Opinion newspapers. After moving to Charlotte Hall, she became a professional artist, and wrote children's stories.

Of all her accomplishments, Virginia's finest, she said, was raising six accomplished children.

She will be interred at Arlington National Cemetery with her husband. Arrangements are pending.