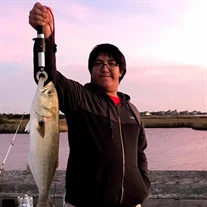 Nico Tyler Quinto, a lifelong resident of Maryland passed away on December 21, 2021 at the age of 23.

Nico is survived by his parents, his brother, grandparents, uncles, and aunts, and many cousins.

He was studying computer engineering. Nico was happiest looking out onto the ocean with a fishing rod in
his hands and spending time with his cousins. He enjoyed gaming, hiking, camping, and kayaking. He will be deeply missed by his friends, family, and all who knew him.

A private (family only) funeral service will be held at a later date.

If you would like to donate to a charity in honor of Nico, a few charities of choice are Project Semicolon, the JED Foundation, or any that bring awareness to mental health and suicide prevention.