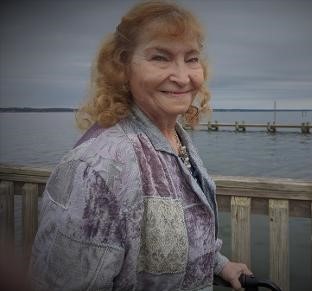 Shirley Anne Babcock, mother, grandmother, great-grandmother, sister, aunt and friend to many, left her earthly vessel Thursday, December 23rd, 2021 at 2:30am to be with her Heavenly Father. She was 78 years young.

Born January 13, 1943 in S.E. Washington, DC, Shirley Binford was the daughter of the late Kenneth H. Binford of Riverside California, and Mary F. Clark of the District of Columbia. Raised by her mother and grandmother May Clark along with her big sister Beverley, her early years were not easy, but her strong will and desire to follow the Lord eventually brought her into a life she truly loved. She remained actively involved in her church throughout her adult life and loved studying the Word and worshipping through song. She was an avid supporter of Jimmy Swaggart Ministries.

After working for office supply companies for many years, she started her own company, Dove Toner, which she ran until she retired. Her passions included gardening, canning, camping at Lake Anna, fishing, hunting, cooking, doing puzzles and sewing/quilting. She loved the movie "It's a Wonderful Life" and watching old westerns and television series like "Gunsmoke." She was a member of the Veterans of Foreign Wars and was an avid supporter of her late husband in the Lion's Club.

Shirley is survived by her sister, Beverley Blankenbeckler of Earlysville, VA and her four children, her son Robert Julius and grandson Lee Julius of Bartow, Florida, her first husband, Franklin Thomas Sheeler, Jr. with whom she had four children, Wendy Runyon of La Plata, MD, Bonnie Goldberg of Fairfax, VA, Antonio "Tony" Sheeler of Charleston, WVA, and William Kenneth "Kenny" Sheeler of Kyle, Texas, 8 grandchildren and 10 great-grandchildren.

She enjoyed 26 wonderful years of marriage with her late husband, James Babcock, Sr. with whom she shared two stepchildren, James Babcock, Jr. and Jayne Carr, 3 grandchildren and 1 great grandchild.

Visitation will take place on Tuesday, January 4, 2022 from 10:30-11am with her service beginning at 11am at Arehart-Echols Funeral Home, La Plata, MD. You may attend in person or via YouTube livestream 30 minutes prior to the service at the following link: http://youtube.com/channel/UCpJpCtTsRxYebrZyIY3Zlrg/live.

We hope you will join us in celebrating her life.

In lieu of flowers, donations can be made to the Tunnel to Towers Foundation. Visit t2t.org where you can dedicate your donation in memory of Shirley A. Babcock.