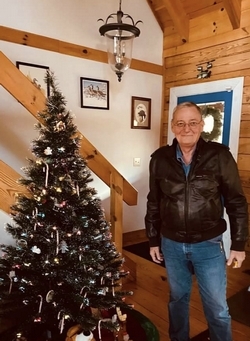 Richard "Rick" Wayne Crook, 64 of Jacksboro, Tennessee passed at home November 6, 2021. He is survived by his wife of 44 years, Pilar "Pili" Crook, daughters Amy Gillian, Lisa Ann (Mo) Summerlin, Grandchildren Matthew Oliver IV, Taylor May, Ava Grace, and Mia Kathleen. He was born February 6, 1957 in Nashville, Tennessee to John Robert and Mary Helen Snow-Crook. Brother to Barbara Jean (Joe) Abell and Jerry. Uncle to Kimberly Silvernagel and Joseph Abell.

Ricky married his high school sweetheart Pili November 5, 1977 at Pax River. He graduated from Great Mills High School in 1975 then enlisted in the US Navy where he served on the USS Independence and Nimitz followed by two years of reserves with honorable discharge in 1981. He worked at Calvert Cliffs Nuclear Power Plant in Calvert Cliffs, Maryland as an electronics technician for many years until he retired. Ricky was a proud member of the Optimist Club of St. Leonard, Maryland. For over 30 years, he lived in Port Republic with his wife and two daughters. He always loved fishing, hunting, and nature and returned to Tennessee to live out his retirement dreams with his wife.

Ricky is preceded in death by his parents, his brother, and many beloved dogs.

Ricky was laid to rest at the East Tennessee State Veterans Cemetery, John Sevier on November 16th, 2021 at 1400 with a graveside service with Military Honors by Campbell County Honor Guard. Cross-Smith Funeral Home facilitated the arrangements where condolences may be received 300 E. Central Avenue, LaFollette, TN 37766.