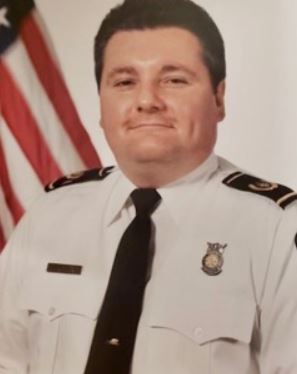 Paul Michael Tackish "Mike and Big Tack," 65, of Pomfret, Maryland passed away peacefully on December 20, 2021. He was born on September 23, 1956 in Washington, DC. He is survived by his loving wife of 38 years, Pamela Sue Tackish, two sons Paul Tackish (Jenna) and Andrew Tackish (Amy), four grandchildren: Emma, Brandon, Hunter, and Blake, mother Gloria Hash, sister Bonnie Smith (Fred), aunt Shelby Graves, mother-in-law Emma Sutherland, and many nieces and nephews that he loved so much. He is preceded in death by his son David Michael Tackish, father Paul Tackish, brother Stephen Tackish Sr., uncle William Graves Sr., stepfather Samuel Hash and father-in-law Howard Sutherland.

He retired as Assistant Fire Chief of Andrews Air Force Base in 2009. He was also a Life Member of the Bryans Road Volunteer Fire Department. At the age of 16 he became a member of the Allentown Road Volunteer Fire Department. He had 49 years of combined career and volunteer fire service.

He was an Amateur Radio Operator also known as KA3GRW. He was a charter member of the Charles County Amateur Radio Club (CCARC) and also served as the President for many years. He enjoyed various activities with the club to include regular radio nets, and especially going to breakfast every Saturday morning at Pancakes Plus with other members of the club. He also served as the Amateur Radio Emergency Communications Coordinator for Charles County, where he assisted with communications events to include the LaPlata Tornado. In the aftermath of the tornado, he coordinated the Amateur communications response to assist the county including Civista Hospital.

He was a member of the Camp Springs Masonic Lodge #227 and St. Florian 9/11 Lodge #238.

He was a devoted husband and father. He was a kind and honorable man who always enjoyed spending time with his family. He was a very humble person and was all about serving his community. He always lead by example and passed his great qualities and values on to his sons, who turned out to be great fathers and also serve their communities. He was so proud of them. His grandchildren were always the sunshine of his life and they will all have many great memories to cherish. He also loved taking his buddy "Remi" to the local parks to run and play.

Friends will be received at the Bryans Road Volunteer Fire Department on Wednesday, December 29, 2021 from 2-4 PM and 6-8 PM with Masonic prayer at 6:30 PM and Fireman's prayer at 7:00 PM; and where funeral services will be held on Thursday, December 30, 2021 at 10 AM. Internment Trinity Memorial Gardens Waldorf, Maryland.

In lieu of flowers, donations can be made to the Bryans Road Volunteer Fire Department & Rescue Squad (BRVFD & RS), P.O. Box 111, Bryans Road, MD 20675.