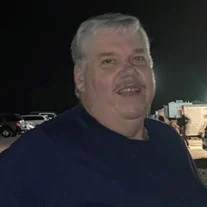 James Leonard Jones, widely known as "BUBBA", passed away on December 22, 2021, at the age of 66.

At the time of his peaceful passing, his family was by his side. Bubba was the first born to Katherine "Ann" and the late James "Jimboy" Lenzy Jones. As the oldest of five children, he is survived by his brothers, Tommy, Arthur, and Paul, and his sister Jean "Sissy" Stephenson. A unique bond existed between Bubba and Sissy as they both shared the same birthday as their father, Jimboy, May 24th.

As a lifelong resident of southern Charles County, Bubba was a 1973 graduate of LaPlata High School. He fulfilled his passion as a lifelong commercial waterman, while also working as a corrections supervisor for Charles County Sherriff's Office, a realtor, and a courier. Bubba married the love of his life, Brenda Sue on May 8, 1982.

Bubba enjoyed baseball and often spent his time watching the Orioles and Nationals play. His favorite NASCAR driver was Dale Earnhardt Jr. and he loved playing card games like Texas Hold 'Em. He was great at card tricks and always had a story to tell. He loved hunting, spending time on the boat, and eating the catch of the day, whether it be crabs, fish, or oysters. He was passionate about calling his close friends almost daily to see how they were doing. He thoroughly enjoyed his time as a little league coach where he and his best friend Hoover Thompson coached their sons together.

Bubba is survived by his wife, Brenda, of 39 years, and his children; Jonathan Mattingly (Jenni), Candi Bowie (Jay), Doug Mattingly (Marion) and Jason Jones (Christina). He has eight grandchildren, Andy, Kyleigh, Austin, Abby, Julie, Tori, Logan and Dylan, two great-grandchildren, Paxtyn, and Nyla, three godchildren Becky, Nicholas and Karlie, and many other relatives.

A celebration of life will be held on Thursday, December 30, 2021 at the Cobb Island Volunteer Fire Department, 17069 Cobb Island Road, Cobb Island, MD, 20625. The doors will open at 2pm for those attending to spend time with the family and friends, and the service will begin at 3pm followed by a meal and more time to celebrate his life.

COVID precautions will be observed with attendees required to wear facial coverings, utilization of hand sanitation and social distancing.

In lieu of flowers, memorial contributions can be made to American Diabetes Association, P.O. Box 7023, Merrifield, VA 22116-7023.