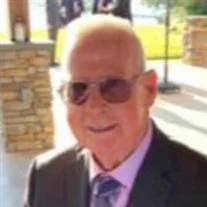 Charles Howard Mays, Jr., 78, of White Plains, Maryland, passed away on Tuesday, December 21, 2021 at the Georgetown University Hospital in Washington, DC.

Born on January 14, 1943 in Meadville, Pennsylvania, he was the son of the late Charles Howard Mays Sr. and Irene Francis Mays. Fondly known as Chuck, Mr. Mays served in the U. S. Air Force, then later worked for the Department of the Army and finally with GSA. He was a member of the Moose Lodge in White Plains, the Accokeek Lions Club, the V.F.W. in Bel Alton, and the Hawthorne Country Club in La Plata. Chuck enjoyed playing golf, collecting and restoring old antique automobiles.

He is survived by his wife of 59 years, Priscilla Lee Mays; children Charles Stanley Mays and his wife Teresa Marie, Michelle Dana Aughinbaugh and her husband Robert Lee; grandchildren Charles David Mays and his wife Jacqueline Michelle, Jonathan Michael Mays, Jordan Lee Selmer and her husband Ryan Andrew, Madison Grace Aughinbaugh, Julia Marie Mays, and Trent Robert Aughinbaugh; great grandchildren Olive Marie Mays and Naomi James Mays; sisters Mary Jane Gartner and Deanna Bish.

A celebration of Chuck's life will not be held immediately due to the circumstances of the recent Pandemic. We are sorry to be without your friendship and physical comfort, but it is our sincere hope that we will have a service at a later date.

In lieu of flowers, memorial contributions may be made to Georgetown Lombardi Comprehensive Cancer Center, Georgetown University Gift Processing, Department Number 0734, Washington, DC 20073-0734.