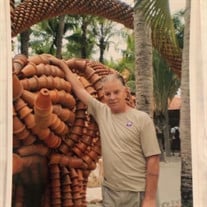 Clifford "Bingo" "Pop Pop" James McFetridge, age 76 of Hughesville, Maryland, died on December 9, 2021.

Mr. McFetridge owned his own electrical contracting business for 25 years. He was an avid pool player and loved animals, especially dogs. Above all, he loved spending time with his grandchildren.

He is survived by his daughters, Cheryl (Craig) Cavalier of La Plata, Maryland and Christine (Carlo) Vargas of Waldorf, Maryland; his brothers, Randy McFetridge and Ricky McFetridge; his sisters, Robin and Bobbie; and his grandchildren, Craig, Chelsey, Cammie, and Nicco.

Visitation will be on Tuesday, December 28, 2021 from 6-8PM with a Memorial Service at 7PM at Raymond Funeral Service Chapel, 5635 Washington Avenue, La Plata, Maryland 20646.