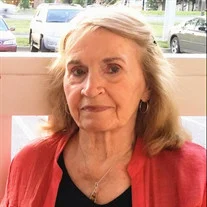 Mary Helen Potter, 90, of Waldorf, Maryland bravely returned home to her Lord and eternal loved ones on December 19, 2021. She passed peacefully in a splendor of abundant love surrounded by her extensive family. Mary Helen is survived by her five children: Donnie Potter of Hughesville, Joseph Potter of Bradenton, Florida, Valerie Simpson of Waldorf, Kevin Potter of Lexington, Virginia, and Kathleen Burch of Hughesville; as well as her many grandchildren and great-grandchildren.

The beautiful Mary Helen was born on June 13, 1931 to Leo and Violet Montgomery in Bryantown, Maryland. She is of an enduring 17th Century Charles County, Maryland family heritage. She is further survived by sisters, Rose Burroughs of Hollywood and Frances Card of Waldorf. Mary is preceded by her ex-spouse Lawrence; her parents; her brothers, Harry, Joseph and Bill Montgomery; and sisters, Ruth Ondrejack and Doris Stover. Mary Helen enjoyed a deep faith in Jesus Christ and loving devotion to Blessed Mary. She was a member of St. Peters Catholic Church in Waldorf for nearly 70 years.

Mary Helen graduated with honors from St. Mary's Notre Dame High School of Bryantown and was May Queen 1947. She excelled at sports and outdoor activities. An avid water enthusiast, Mary enjoyed fishing, crabbing, boating and water aerobics. Mary Helen was a master vegetable and flower gardener. She loved to cook, make MD stuffed ham, crab cakes, scrapple and homemade ice cream. She enjoyed having crab picking, card playing and dinner parties with family and friends. Mary Helen had many varied interests. She loved animals, travelling Europe, going to Deep Creek Lake and Ocean City, exploring the U.S., "Sunday visiting", playing softball, going to baseball games, bowling, music, dancing, reading novels, classic movies, cross word puzzles, drawing her artwork, writing many thousands of personal cards, collecting antiques, art and porcelain figurines. She received her pilot's license from Maryland Airport and enjoyed flying her own Piper Cherokee and Beechcraft Bonanza planes.

A tireless worker of boundless quiet strength and noble character, Mary was a true self-made woman. She was the CFO and co-owner of Potter Heating and Electric and Lamar Partnership since 1956 while also raising a large family. Mom always put the needs of her family first, yet was ready to help any neighbor or be a grandmother to her grandchildren in every moment. She had a 'big heart too young for breaking'. Mary Helen was a sparkling light in an all too often dark world. She will be forever missed and yet she lives eternally with her Lord and in the many loving hearts of all who knew her.

Viewing Services will be held from 10am until Noon on Thursday December 30, 2021 at St. Mary's Catholic Church, 13715 Notre Dame Place, Bryantown, Maryland 20617. Mass and graveside internment will directly follow. Pallbearers are Eric Potter, Mark Potter, Aidan Potter, Nicholas Simpson, Cody Burch, Josh O'Neal and Brady O'Neal.

Mary Helen was esteemed for her generous giving and 'paying it forward'. The family humbly requests simple acts of selfless kindness be freely given to others in the name of Mary Helen, while any financial offerings be sent to the St. Mary's Notre Dame Alumni Association, Bryantown, Maryland.
May the Peace of Christ and God's Love be with you always.