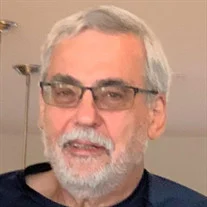 George L. "Lee" Blevins, III, 69, of Dunkirk, MD passed away on Wednesday, December 22, 2021 in his home surrounded by his loving family. Born in Washington, D.C. he was the son of the late George L. Jr., and Betty (Nalls) Blevins. He was the beloved husband of Patricia A. (Green) Blevins. They celebrated their 29th wedding anniversary on October 31, 2021. George was a veteran of the United States Army. He was employed as a computer supervisor for the United Mine Workers of America in Washington, D.C. for many years. George enjoyed going to the beach, following the local sports teams, spending time with his family, especially his grandchildren.

Along with his wife his wife he is survived by his children; Melissa L. Welch (Shannon) and George L. Blevins, Jr. (Amanda). Four grandchildren; Emily, Samantha, Ava and Max. Brothers; Bret and Gary Blevins and many nieces and nephews. He was preceded in death by his sister Toni Bergquist.

The family will receive friends at Lee Funeral Home Calvert, 8200 Jennifer Lane, Owings, MD 20736 on Thursday, December 23, 2021 from 5:00 pm – 7:00 pm. A Graveside Service will be held at Southern Memorial Gardens Cemetery, 10155 Ward Road, Dunkirk, MD 20754 on Friday, December 24, 2021 at 10:00 am.

In Lieu of flowers donations may be made to Calvert Hospice, P.O. Box 838, Prince Frederick, MD 20678, The American Cancer Society, P.O. Box 22718, Oklahoma City, OK 73123-1718 and/or The Jimmy V. Foundation, 14600 Weston Parkway, Cary, NC 27513.