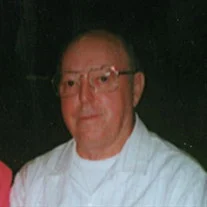 James H. Sunderland ("Jimmie"), age 93, passed away peacefully on December 18, 2021 at his home in Owings, Maryland. James was born February 21, 1928 to James A. Sunderland and Adelheit Mary Ball Sunderland. At a young age, Jimmie fell in love with Jeanne Elizabeth Dunnington, and they were married September 3, 1950. They had a long and happy 50 years of marriage until Jeanne's passing on May 24, 2001. Jimmie's career at the U.S. Information Agency was well over 40 years, and he retired in 1987.

James is a child of God and is remembered for his joyful personality and sweet heart. His family always came first no matter what. During his long retirement years, he enjoyed lunch outings with his sister Thelma and their friend Margie, as well as many trips to the mall to see the grandchildren and his daughter. During his marriage, he and Jeanne enjoyed visiting the Oakland Inn, and Jimmie would entertain them all with his singing.

Jimmie is predeceased by his loving wife Jeanne, his daughter Sandra Fricker, his parents, his sister Carolyn Randall, his sister Thelma S. Baldwin, and his brothers-in-law James W. Randall, Sr. and Ambrose Baldwin. Jimmie is survived by his daughter Barbara J. Andrews (John) and his son Wayne A. Sunderland (Laura). He had five grandchildren: Michele Howard, Connie Gerhardt (Dave), Michael Fricker (Molly), David Fricker, and Mark Sunderland. Additionally, he had six great grandchildren and three great great grandchildren. He also has one nephew James W. Randall, Jr. (Karen) and many extended nieces and nephews.

Family and friends are invited to Lee Funeral Home Calvert, 8200 Jennifer Lane, Owings, MD 20736 on Monday, December 27, 2021 from 10:00 AM – 11:00 AM where a Funeral Service will be held at 11:00 AM in the Funeral Home Chapel. Interment will follow at Resurrection Cemetery, 8000 Woodyard Road, Clinton, MD 20735.