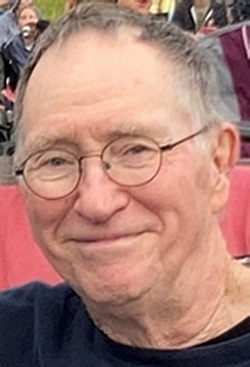 Frederick Asa Ruark, 84, a resident of Asbury Solomons, passed away peacefully in the presence of his loving family on Tuesday, November 23, 2021.

Born in Baltimore, he was the son of Edgar and Mary (Pentz) Ruark. He graduated from Kenwood High School in Essex and received a B.S. in Industrial Management and a M.S. in Adult Education at Johns Hopkins University. Frederick served as a Seabee in the United States Naval Reserve.

Frederick had a lengthy career in the communications field, employed with Verizon and the Calvert Cliffs Nuclear Power Plant. After his retirement, he continued to be a training consultant for several companies.

He enjoyed traveling, scuba diving, playing soccer, community theater, and photography. Frederick loved to write poetry, and short stories. He researched, wrote, and published a fictional novel on Irish history. His love of music was shared and performed to family and friends.

He was a volunteer at the Calvert Maritime Museum, and the Asbury Solomons Residential Community and an active member of the local Unitarian Universalist Congregation.

Frederick was preceded in death by his wife of 63 years, Marilyn (Maurer) Ruark. He is survived by a son, Jeffrey Ruark (Kimberley), of Maryland, and a daughter, Elizabeth Ruark, of Minnesota; Grandchildren, Kathryn Ruark (Daniel) and William Ruark (Stuart), of North Carolina; Emily Richey (Kyle), of Minnesota and Grace Richey, of Colorado; and a sister, Joyce Collins, of Connecticut.

A celebration of his wonderful life will be held at a later time.