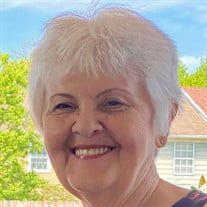 Sandra "Sandy" Marie (Borys) Tucker was born August 8, 1947. She was the eldest daughter of Alex and Amelia Borys. She will be lovingly missed by her husband of 42 yrs, Douglas; children, Xenia of Seattle, WA, Tammie (Jeff) Lauer of Huntingtown, MD, Teresa Chilkowich (Pamela FitzRoy) of Carcross, Yukon, Canada, Andrew (Stella) Chilkowich of Bellevue, WA, & Katrina Robinson (Colette Collins) of Leonardtown, MD; step-children, Saundra (Joe Klim) of Elkton, MD and Jefferson Tucker of Brooklyn, NYC; grandchildren, Alexis, Bailey, & Carissa Lauer, Addison & Avery Robinson, and Dylan & Skylar Lowmen, Gwen & AJ Klim. Also by Ronnie Robinson, father of Sandy's two youngest granddaughters; sister, Sharon (Mike) Sheptak of Leduc, Alberta, Canada; brother, Billie (Shirley) Borys of Fort Saskatchewan, Alberta, Canada; several nieces, nephews, aunts, uncles, cousins; and Misha dog, Sandy's furry, four-legged companion.

Sandy was predeceased by her parents, Alex & Amelia Borys; maternal grandparents, Mike & Mary Hook; paternal grandparents, Wasyl & Katherine Borys.

Sandra was born in Edmonton, Alberta, Canada and raised on a farm near Josephburg, AB in the Canadian Prairies along with her younger sister Sharon & little brother Billie.

Having moved to the USA early in her married life, coming back to visit in Canada was always coming "home." Sandra, or Sandy as she was known, enjoyed reminiscing and gathering with the family, especially the cousins, whenever she came home to visit. There were many happy memories and stories to share.

Sandy and Doug settled in Waldorf over 30 years ago after living in Hawaii, Germany, Virginia, Georgia, & Delaware. In addition, Sandy was an extremely skilled & creative artist of Ukrainian Easter eggs known as "pysanka," and was a very adept & popular Ukrainian baker/cook.

Sandy loved spending time with her grandchildren, baking, making pickles, arts & crafts, telling stories, tending her gardens, walking Misha, & having her grandchildren over for sleep overs.

????? ? ???'??? Sandra
Everlasting memory

Viewing on Friday, December 17, 2021 from 10:30am to 12:00pm at St Thomas the Apostle Orthodox Church, 4419 Leonardtown Rd, Waldorf, Maryland 20601 with service from 12:00 to 12:45pm followed by burial at Trinity Memorial Gardens, 3221 Mattawoman-Beantown Road, Waldorf, MD 20601.