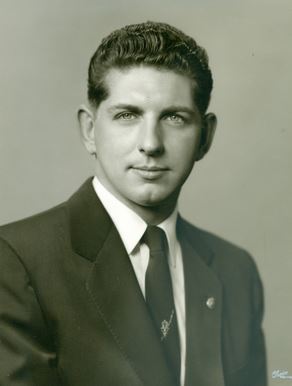 Kenneth Ogle Dixon (Ken), beloved husband, father, grandfather, great-grandfather and Charles County businessman, died peacefully in his sleep at his home in Ocean Reef, Key Largo, Florida on December 13, 2021. He was 93.

A native Washingtonian, he attended McKinley Tech HS in the 1940's and was a Washington, DC High School tennis champion. In 1950 he married his loving wife of 71 years, Peggy Louise Roach. In 1960 they moved to Waldorf, Md. where he started his dealership "Ken Dixon Chevrolet-Buick". The dealership continued to grow for over 50 years.

Ken was very active in the community as well as in professional organizations. He served on the Planning Commission, St. Charles Review Board, and as President of the Chamber of Commerce. He was a lifelong member and past president of the Waldorf Lions Club and Chairman of the Board of the Maryland Automobile Dealers Association from 1979-81. In 1983, he was awarded "Maryland Time Magazine Dealer of the Year". Mr. Dixon was also a 32nd degree Mason, (Egypt Temple) as was his father.

A lifelong boater, offshore fisherman and tennis player, Ken was also an avid pilot who earned his wings at age 18 and flew until he was 82. He served the US Coast Guard Auxiliary as pilot/aircraft commander in the Florida Keys.

Ken is survived by his wife Peggy, three children Andrew Dixon, Gail Manuel, Bill Dixon, four grandchildren, and two great-grandchildren.

Viewing for Mr. Dixon will take place on Monday, December 20, 2021, from 3-7 pm at Arehart-Echols Funeral Home, La Plata, Md. His funeral service will take place on Tuesday, December 21, 2021 at La Plata United Methodist Church at 2 pm. All are invited to celebrate his life.

Donations to Shriner's Hospital for Children, P.O. Box 1525, Ranson, WV 25438 in Ken's name are deeply appreciated.