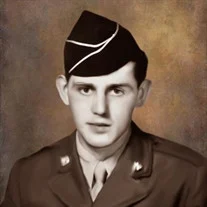 J .Edward Derenberger Jr. (Boz) of La Plata, Md. passed away December 10, 2021 at the age of 93. He was born January 5, 1928 in Baltimore, Md. to the late James Edward Derenberger Sr. and Helen Kaufmann.

He graduated from St. Joseph College in Baltimore, Md. in 1945 and enlisted in the US Army January 1946. He quickly advanced through basic training and served in with the 6th Signal Company 6th Infantry Division in Pusan, Korea 1946-1947. He worked with the Remmington Rand Corporation for a short period before becoming employed with The Signal Depot at Fort Holabird in Dundalk, Md. He went on to work with the Air Research and Development Command and then became a Communications Management Specialist with USAF Systems Command at Andrews AF Base. He took great pride in his work as a US Department of Defense Employee. One of his greatest achievements was his work on the Apollo Moon Mission where coordinated communications across many nations to keep the air space open as the spacecraft orbited the earth. He graduated from the USAF Industrial College and was a recipient of many Special Achievement Awards throughout his career.

Known to all as Boz, Bozy, never James! He was a gentleman, fully present, kind and generous. Always a quick wit followed with a quirky joke or two. He was the loving husband to Maryann who he always put first, father to Kenneth Edward(Theresa), Edward Anthony(Grace) and Jean Marie. He was a loving grandfather known as Poppop to Susan Harding(Leonard), Erin Rady(Paul), Lindsay Marrion(Kristopher), Kyle Humphreys and Ryan Derenberger. Great grandfather to Joseph Derenberger, April and John Harding, Hays and Wrenn Rady, Everly and Layla Marrion.

He was a faithful Orioles fan, enjoyed jigsaw and word puzzles, working in the yard on his property, and loved to drive the countryside admiring nature's beauty. He enjoyed reading the newspaper daily, keeping up with current events no matter what they were. He was a man of strong faith and commitment. He followed his children's and grandchildren's activities closely. He was their biggest fan. He was an inventive and skilled craftsman. A model railroader especially the Lionel O gauge!

In his last years he was happy just to hold Maryann's hand, watch the birds, and listen to their favorite music from the comfort of their home; their "happy place".

In addition to his parents, he was predeceased by his sister Katherine Dyson, Jane Grob, Doris Cary and his son Kenneth Edward. He is survived by his wife MaryAnn of 73 years, his loving son Edward (Grace) and devoted daughter Jean Marie, 5 Grandchildren and 7 Great Grandchildren, and many nieces and nephews.

Viewing will be held Dec. 16, 2021 from 8am-10am and 10am for the time of a Mass of Christian Burial at Sacred Catholic Church in La Plata, Md. 201 St. Mary's Ave. La Plata, Md. 20646. Interment will be later in Wilmington, NC. In lieu of flowers memorial contributions may be made to the Special Olympics of Maryland, Charles County Humane Society or Habitat for Humanity or any charity of choice.