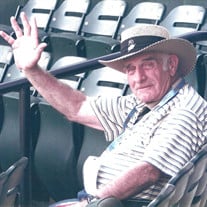 Perley Charles Waters Jr, 88, of Waldorf, Maryland passed away on Dec. 4, 2021. He was born on February 23,1933 in Keene, New Hampshire to the late Perley Sr and Edna Waters.

Perley, or "Charlie" as he was called by his work friends, was a veteran of the Korean War. He served honorably in the U.S. Navy aboard the USS Block Island and the USS Midway. After his military service, he was employed as an electrical and mechanical designer for Lockheed Martin, Raytheon, and CAE-Link, producing training simulators for a variety of military aircraft, submarines, missiles, and civilian equipment.

He was an avid sports fan and enjoyed bowling and playing golf until his health declined. He was a faithful fan of Southern Maryland Blue Crabs baseball team and, as a season ticket holder, attended as many home games as he could. He watched all the national baseball, football, basketball, and golf broadcasts on TV and kept up with the team standings and player rankings.

With his family, Perley enjoyed travelling nationally and internationally. He took excellent photos to record their trips. He always had a jigsaw puzzle in progress and was proud to have mastered a 7500- piece puzzle; it took him several months to complete and was so large that it had to be put together on the floor.

Perley was a member of the Knights of Columbus, Dr. John Griffin Counsel #2293, and had belonged to the White Plains Senior Golf League and the 2N1 Senior Club. He served as an usher at St. Peter's Catholic Church for 33 years.

In addition to his parents, he was predeceased by his sisters Marsha Martel and Clara Brown. He is survived by his beloved wife of 65 years Mildred Middleton Waters, devoted and cherished daughter Ann Waters, and several nieces and nephews.

Viewing will be held on December 14, 2021 from 9 am until the time of Mass of Christian Burial at 10 am at St. Peters Catholic Church, 3320 St. Peters Drive, Waldorf, MD. Interment to follow in the church cemetery.

In lieu of flowers, memorial contributions may be made to St. Peters Church, 3320 St. Peters Drive, Waldorf MD 20601.