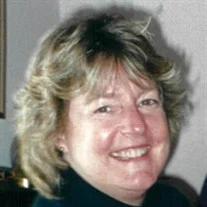 Marianne Cox Wilburn, 73, of Allens Fresh, Maryland, passed away peacefully at home on November 27, 2021 after battling ill health for some time.

Born on May 14, 1948 in Philadelphia, Pennsylvania to Paul Joseph Cox and Nancy Marie Joyce Cox, she was raised in District Heights, Maryland and attended Mt. Calvary School in Forestville, Maryland. She graduated from La Reine High School in 1966 where she enjoyed playing the oboe in the band and orchestra and was a member of the Pep Club. She went on to receive a Bachelor of Arts from the University of Maryland in 1970. She began her career as a technical editor with the American Petroleum Institute and then with the National Academy of Sciences before she focused on raising her family.

Marianne was a devoted and loving wife of 48 years to her husband, Harris Raymond Wilburn, Jr. Both history buffs, they enjoyed traveling together visiting as many National Parks as they could and enjoying seeing Europe, Hawaii, and the Caribbean together, too. She loved hiking, camping, and backpacking with her family and also enjoyed gardening and birding. Known as an excellent cook, she would often recreate recipes from her travels, much to the delight of her family and friends. An adoring mother to two children, Marianne was sure to be found volunteering as a room mother, scout leader, and chaperone. She was a treasure to her local Girl Scout Council of the Nations Capital where she led troops, organized Encampments and Expos, and was instrumental in fundraising for SHARE. She also served as Service Unit Manager and Association Chair for GSCNC 54-15. As her children showed an interest in music, she became an integral support to the Lake Braddock Bruin Band Boosters: she never missed chaperoning a single trip and was at every football game, concert, and competition as a "closet mom," helping the students with their uniforms. Marianne was a longtime parishioner of the Church of the Nativity Catholic Parish of Burke, Virginia where she was a catechist for many years. She also spent time working with Adult and Community Education with Fairfax County Public Schools.

She spent much of her life residing in Lake Braddock in Burke, Virginia where she established many deep and lasting friendships. She was known for her quick wit and was always the life of the party. She taught us all to never take oneself too seriously and there is always fun and a laugh to be had.

She and her husband retired to Allens Fresh, Maryland where she lived her remaining years on a small farm and was an active parishioner of Christ Church, Wayside. She loved spending every day with her three grandchildren and passed along her love of reading, cooking, and good humor to them.

She is survived by her loving husband, Harris Raymond Wilburn, Jr., and her two children, David Michael Wilburn and Sarah Wilburn MacMillan (Michael). She is also survived by her three adoring grandchildren, Sean Patrick MacMillan, Mary Catherine MacMillan, and Ronan James MacMillan, as well as many family and friends who adore her. She is preceded in death by her mother and father.

Family and friends will be received on Thursday, December 9, 2021 from 2:00 until 4:00 PM and again from 6:00 until 8:00 PM with a prayer service at 7:00 PM at Raymond Funeral Home, 5635 Washington Avenue, La Plata, Maryland 20646. Her funeral service will be on Friday, December 10, 2021 at 10:00 AM at Christ Church Wayside, 13050 Rock Point Road, Newburg, Maryland 20664 with a repast immediately following in the Parish Hall. Burial will be private at Fort Lincoln Cemetery in Brentwood, Maryland 20722

In lieu of flowers, donations may be made in her memory to Wayside Food Bank, 15848 Rock Point Road, Newburg, MD 20664 or to The Leukemia & Lymphoma Society, Donor Services, P.O. Box 22324, New York, NY 10087.