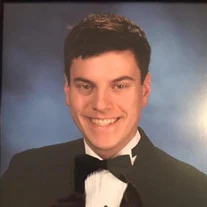 David Boarman II, 24 of La Plata, went home to Jesus on November 26, 2021 peacefully surrounded by family.

David is survived by his parents, David and Janice Boarman; sisters, Rachel Boarman and Jennifer Thomas; nephews, Grayson and Christopher; niece, Charis; brothers-in-law, JD and Dale; aunts, Debbie and JoAnne; several cousins; and other family members. David is preceded in death by his grandmother, Louise Collins; his aunt, Jean Green; and sister, Grace Boarman.

David was born December 4, 1996 in La Plata, MD. He graduated from Lackey High School in 2015 and then attended the College of Southern MD. He received many awards and recognitions for his art work. His artwork has been displayed in several locations such as the local government building, library, and at the Charles County Fair.

David was a loving uncle to his two nephews and niece. He spent a lot of his time during the week watching over his little nephew, Grayson. David also had many talents. God gave him the gift of not only drawing, but using art to spread joy and inspire others. David made it his mission to depict God's glory and beauty through his artwork. David was also an avid explorer of nature. He enjoyed shark tooth hunting and finding arrow heads in the field by his home. David loved animals, especially his cat, Alex and dog, Dixie. He also made sure to take care of any stray cats who needed food.

As a child, David enjoyed searching for frogs with his dad down on the farm, going to the beach with family, and spending time with his cousins, Sam and Andrew. He was a happy and cheerful child who loved learning and school.

As a teenager, he loved playing Mario Cart and going bowling with his sister, Jennifer, and taking road trips to New York City to visit Nintendo World with his sister, Rachel. He had many Nintendo/Super Mario collector items on display at home.

David always stayed grounded and kept his eyes focused on what was important in life. He loved going to church each Sunday morning with his family. He loved Jeopardy, oldies music, and reminiscing with his mom. Each morning, David would sit with his mom and drink a cup of vanilla flavored coffee in his "love" mug. David enjoyed the simple things in life, like riding out to La Plata, going to Cracker Barrel with his parents, and having get-togethers with the whole family. David created the most beautiful homemade cards and letters for his family on birthdays and holidays. David had a heart of gold. He would do anything for the ones he loved and will be sorely missed. The best son, brother, uncle, and cousin we could have ever asked for. We love you, David.

A visitation will be held on Wednesday, December 8, 2021 from 10 am until the time of service at 12 noon at Hughesville Baptist Church, 8505 Old Leonardtown Road, Hughesville, MD. 20637.

Flowers should be sent to Hughesville Baptist Church.