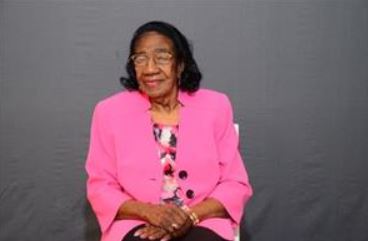 At her residence on Sunday, November 28, 2021, Lillian Theresa Mills Fenwick of Chaptico, MD went home peacefully to her Heavenly Father and family, surrounded by her earthly family. She was 107 years young!

Affectionately known as Mom, Mama, Ma-Ma, La-a and Grand-ma, Lillian was born on August 24, 1914 and was the fifth of fifteen children born to the late William Henry, Sr. and Millie Elizabeth Young-Mills. Lillian attended a one room school and completed seven grades of school, which was the highest education available for blacks in St. Mary's County, at that time. After completing her education, she worked with her other siblings on the family farm.

On December 26, 1937 at Our Lady of the Wayside Church in Chaptico, MD, she married James Earl Fenwick, and from this union they were blessed with eight children: Clifton, David, Gantt, Theresa, Leonard, Jerome, Wilmer and Leo.

Lillian was a very religious person and a life-time member of Our Lady of the Wayside Catholic Church. She was baptized, received all other Sacraments offered by the Catholic religion at Our Lady of the Wayside Church, and attended all mass obligations until the COVID-19 pandemic. She never made it back to church in person because when the COVID-19 restrictions were lifted, she was physically unable to attend. However, she would fulfill her desire to attend mass by watching it on TV. She would read daily prayers and pray her rosary every day. Her religious life also included going on weekend retreats with her sisters, Ann and Bernice, before the death of Bernice.

Lillian was a very athletic person and would get all of her children involved in sports through high school, and for some, well into their adult life. Jerome taught her about football, and she became a Redskin fan, and she watched them regularly until they started losing in the later years. Although she stopped watching them, she wanted to know if they won or lost -- most times they lost, and she would say "Those Redskins!!"

Lillian was the matriarch of the Fenwick family and lived a full, blessed life. She was a loving, kind-hearted person who enjoyed being with her family, especially the grandchildren, great grandchildren and great-great grandchildren.

As with most moms, Lillian enjoyed cooking that big meal on holidays and special occasions. Lillian was a full-time mom and house wife until her youngest reached high school. She then worked outside of her home for eighteen years before retiring from St. Mary's County Board of Education. Lillian had many hobbies such as sewing, cooking, baking, and watching her favorite soap operas. Her favorite hobby was sewing, and she was an excellent seamstress! In addition, she baked her last cake one month after celebrating her 107th birthday.

On August 24, 2014, Lillian celebrated her 100th birthday and became a member of the Centenarian Club with two of her living sisters, Mary (105) and Genevieve (104).

Besides her parents, Lillian was preceded in death by her husband of fifty-eight years, James Earl Fenwick, in Jan 1996; children,Joseph Gantt in 1941, John Leonard in 1990, Arthur Leo in 2001, Jerome Sylvester in 2008, and Charles Wilmer Fenwick in 2018; grandsons, Reginald Anthony Fenwick, Sr. in 1990 and James Earl Fenwick, II in 2010; brothers, Joseph Arthur (Alice deceased), William Henry, Jr. (Susette deceased), Thomas Aloysius, Sr (Elizabeth deceased), James Gantt, John Leonard, and Victor Mills; sisters, Ethel Bernice Mills-Baker (John deceased), Jean Cecelia Mills-Bush (Robert deceased), Rose Helen Mills-Shade (Thomas deceased), Agnes Genevieve Mills-Carter (Joseph deceased), Mildred Katherine Mills-Kerrick (Arthur deceased), Mary Elizabeth Mills-Settles (Fred deceased), and Mary Juanita Mills-Price Chase (James deceased)/(Howard deceased); daughters in-law, Edna (Leonard), Geneva (Leo); Godson, Anthony Bush, and many nieces, nephews, and other relatives.

Lillian is survived by two sons, James Clifton of Chaptico, MD and David Earl (Inell) Fenwick of Upper Marlboro, MD, and one daughter, Edna Theresa Fenwick-Washington (Charles) of Washington, DC; ten grandchildren, Melissa, Beverly, Eric Donnell, Eric Oliver (Dana), Jermaine, LaShawn, Leon (Charlotte) Fenwick, Victoria Fenwick (Lorenzo) McDonald, Patrice (Gary) Payne, and Crystal Moody-Beslow; twelve great-grandchildren, Adrian, Kameece, Reginald Anthony, Jr (Dominique), Blair and Brandon Combs-Fenwick, Alayah and Jordan Hedgepth, Lorenzo and Sergio McDonald, Devon Campbell, Archie Beslow, and Eric Moody; two great-great-grand-daughters, Amina Fenwick and Kylie Sewell; three great-great grandsons, Reginald Anthony, III, Ayden Alexander, and Brayden Amire Fenwick; one sister, Ann Mills-Bowman; daughters-in-law, Diane and Maxine Fenwick and Beverly Herron; sister-in-law, Agnes V. Milburn-Fenwick; son in-law, Charles; two first cousins, Rebecca "Polly" Young-Rustin (Paul) and Joseph "Boy-Box" Hill; three Godsons, Charles Bush, Lawrence Mills, and James Robert "Harper" Thomas, and many nieces, nephews, and other relatives and friends.

The family will receive friends on Monday, December 13, 2021, from 9:00 am until 10:00 am at Briscoe-Tonic Funeral Home, 38576 Brett Way, Mechanicsville, MD 20659. Immediately afterwards, Mass of Christian Burial will be held at Our Lady of the Wayside Church, 37575 Chaptico Road, Chaptico, MD at 11:00 am. Interment will follow at Queen of Peace Cemetery, 38888 Dr. Johnson Rd, Chaptico, MD 20621.

Due to the COVID-19 pandemic, masks are required at all times. The family will not have a repast or receive friends after the funeral, but we are planning to do something later when it is safer. Thank you for understanding the situation.