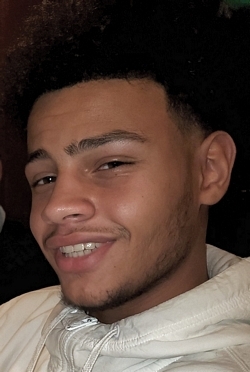 Corey D'Angelo Zelonis, 18, of Lusby, Md. passed away on November 26, 2021 in Drum Point, Md. He was born November 18, 2003 in Prince Frederick, Md.

Corey was a lifelong resident of Calvert County and attended Patuxent High School in which he would have graduated in June of 2022. He enjoyed fishing, basketball, and spending time with family and friends. Corey will be deeply missed by all who knew him.

Corey is survived by his mother, Melissa Zelonis of Lusby, Md.; maternal grandparents, Leonard and Mary Zelonis of Lusby, Md.; brother, Marcus Bushrod of Washington, DC; uncle, Leonard, Jr. (Katrina); cousins, Kaitlin and Emily Zelonis of Leonardtown, Md.; close friends, Nicholas Winfrey, Kayla Whitney, Zach Unkle, and Cole Mathis; father, Quentin Rice; and paternal grandparents, Amos and Celestine Sewell of Lusby, Md.; along with numerous cousins, friends, and extended family members.

Family will receive friends on Friday, December 3, 2021 from 2:00 p.m. until 4:00 p.m. and 6:00 p.m. until 8:00 p.m. at Rausch Funeral Home, 20 American Lane, Lusby, Md. A Mass of Christian Burial will be held on Saturday, December 4, 2021 at 10:00 a.m. at Our Lady Star of the Sea Catholic Church, Solomons, Md. Interment will follow in Chesapeake Highlands Memorial Gardens, Port Republic, Md.

Serving as pallbearers will be Alexander Johnson, James Darden, Tashi Davis, Tarrence Butler,

Thomas Somerville and Paul Musumeci.

Condolences to the family may be made at www.rauschfuneralhomes.com.