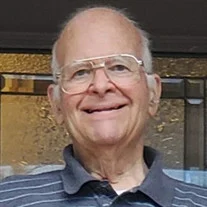 Lawrence (Larry) August Schott, was born in Brooklyn, New York on February 17, 1944. After several months of declining health, he passed away peacefully at home on November 7, 2021, with his children by side.

He is preceded in death by his wife Christina L. Schott. He is survived by his daughter, Natalie Cronin, her husband Tim, grandchildren Tadhg, Maura, and Ciara, son Joseph Schott, his wife Laurie, grandchildren Vienna, August and Adler, sister Barbara Shotter, her husband Ray, brother Dennis Schott, his wife Carmela, sister Karen Schott, sisters-in-law Florence Norris (Ted), Lynta Huff, Mary Donn (George), Martha Westman, brother-in-law James Cowan (Janice), and many nieces and nephews.

Larry attended Saint Sylvester's Grammar School, East New York Vocational High School, and RCA Institute. He moved to Maryland to pursue a career as a computer programmer with the Department of Defense. His career gave him the opportunity to travel, and upon his travels he met his wife, Christina. After settling down, he continued his career at the DOD and operated a successful electronics repair shop out of his home. When he finally retired, he enjoyed playing with his model trains, working on his computers, and cooking for a crowd. In his last years, he took great pride in his volunteer work as treasurer for his neighborhood community association. Above all, he loved spending time with his family, especially spoiling his six grandchildren.

The family will receive friends at Lee Funeral Home Calvert 8200 Jennifer Lane Owings, MD 20736 on Monday, November 15, 2021 from 2:00 PM – 4:00 PM and 6:00 PM – 8:00 PM. A Mass of Christian Burial will be celebrated at Jesus the Good Shepherd Catholic Church 1601 W. Mount Harmony Road Owings, MD 20736 on Tuesday, November 16, 2021 at 11:00 AM. Interment will be private.

In lieu of flowers, donations to Calvert Hospice calverthospice.org are appreciated.