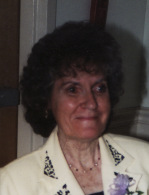 Mary Jeanette Cooper, 83, of California, MD, passed away on October 29, 2021 at her home. Known as Jean to her friends and Mary Jean to her family, she was born on January 10, 1938 in Leonardtown, MD, and was the daughter of the late Elizabeth Claire Spalding and the late Francis Xavier Spalding. Jean was the loving wife of the late Joseph Arthur Cooper, whom she married on September 8, 1956 in St. John's Church, Hollywood, MD, and who preceded her in death on December 22, 2018.
Mary is survived by her children Kathy (Don) Sheehan of Leonardtown, MD, Barbara (Dennis) Hengemihle of Cobb Island, MD, Patrick Cooper of Stuart, FL, and Joseph (Joyce) Cooper of Silver Spring, MD, her sisters Katherine (Kit) Spalding of Leonardtown, MD, Susan Miedzinski of Leonardtown, MD, and Elizabeth (Betty Jo) Abell of Huntingtown, MD, 13 grandchildren, and 16 great-grandchildren. She was preceded in death by her siblings Francis, Jr. (Bunny), Samuel, Helen, Joseph O. (Sonny), George, Jean's twin Joseph M. and John M.

Jean was a lifelong St. Mary's County resident, and graduated from St. Mary's Academy in 1956. She was a wife, mother, grandmother, and great-grandmother. Jean supported her husband, Joe, in his career as a civil servant, and his long commitment to the Bay District Fire Department, traveling with him throughout the state as he represented St. Mary's County and Southern Maryland. Jean and Joe were adventuresome travelers, exploring sites on motorcycles and in their RV. She was a loving mother who encouraged her four children in their careers and family life. She was beloved as DeeDee to her grandchildren and great-grandchildren in Maryland, New York, New Jersey, North Carolina, Florida, and England. Jean and Joe were lifelong lovers of huskies, providing a happy home for Mikki, Nikko, and Nikki. Jean Cooper will be remembered for her kindness, her chocolate chip cookies, and her unending devotion to family and friends.

The family will receive friends on Monday, November 8, 2021 from 10:00 AM to 11:00 AM in St. John's Catholic Church, Hollywood, MD, where a Mass of Christian Burial will be celebrated at 11:00 AM with Father David Beaubien officiating. Interment will follow in the church cemetery. Serving as pallbearers will be Freddie Bailey, Tony Matthews, Dean Cooper, Scotty Nelson, Mike Mattingly, and Larry Miedzinski. Honorary pallbearers will be Lisa Marshburn, Jessica Nelson, Jessica Priola, Kelly Darrell, Amy Ferro, Shannon Davison, Donnie Sheehan, Blake Cooper, Logan Cooper, and Ava Cooper.

Contributions may be made to the Bay District Volunteer Fire Department, P.O. Box 1440, California, MD 20619.