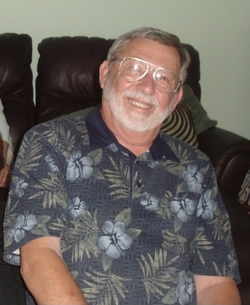 William (Bill) I. Gaither, Jr., formerly of La Plata, Md., passed away peacefully on October 24, 2021 in Haines City, Fl. Bill was born on November 7, 1936 in Savannah, Georgia to William I. Gaither, Sr, and Mary J. (Russo) Gaither. Bill was their only child and his extended family became those of his wife, Gloria J. (Jean) Watts, who was the love of his life! They married on May 12, 1957, and together raised their family in La Plata, Md. After serving in the US Army during the Korean Conflict, he went on to his career with AT&T, from which he retired. He then went on to work as a Civilian for the Charles County Sheriff's Office. He enjoyed serving his community, and as a Volunteer became a lifetime member of the Charles County Rescue Squad (Company 51), proudly serving as Chief for many years. He was in the first Volunteer EMT Class in the Country. To this day, each year, a member of the Squad is proudly awarded the William Gaither Chief's Award.

After retiring, Bill and Jean chose Sun City Center, Fl. as their retirement dream, living a fun, active life, making many more friends. Bill served in the Coast Guard Auxillary, and worked part time along with Jean at the Golf Course that was in their back yard. He enjoyed playing his guitar, and singing and was a member of The Pickers. He and his wife Jean also served together with the local Elks Club, and enjoyed many hours together with their friends singing Karaoke all over Sun City and in their home. He loved riding his motorcycle and proudly took his final ride in September of 2019 with his Sons, Glenn and Mark.

Bill was preceded in death by his parents, his first (infant) Granddaughter, his Brother in law Tommy Watts (Sandra) who he loved as a Brother. Bill is survived by his Wife of 64 years, Jean, and his three loving Children, Lorri Gaither Latham (Bobby), Glenn (Cindy) and Mark (Tammy), seven Grandchildren, eleven Great-Grandchildren, and was expecting his first Great-Great-Grandchild. He is also survived by his Brother and Sister-in-Law, Eddie Watts, (Alice) who he loved as a brother, and their children.

Bill will be remembered for the love he had for his family, being a man of faith, his beautiful singing voice, his witty one-liners, and awesome spoonerisms he could entrance everyone with, but mostly his grandchildren.

His family and friends will dearly miss him, but rejoice that he is with his Lord and Savior Jesus Christ. The family gathered for a private Celebration of Life on October 25, 2021.