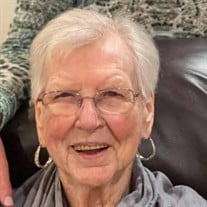 Anastasia "Ann" (Forand) Fowler
October 5, 1921 – October 24, 2021

The world's best mom passed away peacefully on October 24th, 2021 at the Inova Loudoun Nursing and Rehabilitation Center in Leesburg, VA, with her loving daughters at her side. Ann Fowler was 100 years young. She was the wife of our late father Ray Fowler, with whom she shared 69 years, 3 months, and 28 days of a wonderful, magical, storybook marriage until his passing in October, 2015.

Ann is survived by her children Debbie Kotowicz (Don), Jeffrey Fowler (Lou Anne), David Fowler (Donna), Mary Beth Clark (Mel), Stephen Fowler, and Daniel Fowler; her grandchildren Louise Phillips, Beth Staples (Jim), Kim Gibson, Cindy Jensen (Karl), Christine Dziduch, Jeffrey Kotowicz, Karen TerHaar, Allen Fowler (Christine), Alex Fowler, Brad Fowler, Andrew Fowler (Nellie), Deanna Fowler, Michael Fowler, Sam Clark (Kaitlyn), Elizabeth Clark, Emily Clark, Josh Clark, Ben Clark, Zack Fowler, Jackson Fowler, Matthew Fowler, Jonathan Fowler, Kaitlyn Fowler, and Samantha Fowler; her youngest sister Dorothy "Dottie" Lowney; and 13 great-grandchildren at last count. She is preceded in death by husband Augustus Ray Fowler, daughter Kathryn Mosimann and son Thomas "Tom" Fowler; sister Loretta Galipeau, and brothers Louis and Edward Forand.

Shortly after the end of World War 1, Ann was born in New Bedford, Massachusetts to parents Louis Philadore and Mary (Smith) Forand. Her parents had met during the war while Louis was stationed at Fort Taber in New Bedford. Ann was the oldest in her family of three girls and two boys. As a child, she took piano lessons, and so was naturally tormented by her siblings with the chant: "Anna banana plays the piana." She attended New Bedford High School where she was a member of the basketball team and graduated in 1939.

In 1941, having passed the Civil Service exam, Ann received a letter summoning her to nation's capital to assist in the war effort. So, at the tender age of 20 having never traveled away from home, her parents brought her to Boston and put her on a train bound for Washington, DC. She arrived at Union Station hours later in the middle of the night, by herself, with no cell phone, no Uber, and no idea what to do. Thankfully those were better times. She was rescued by a woman she met on the train, whose fiancé had been waiting at the station. Noticing Ann's distress, they escorted her to a nearby hotel and paid her lodging for the night. She never saw them again.

The next morning, Ann reported in for her job and was placed in a boarding home, along with many young women, several of whom became her lifelong friends. It was there that she met a handsome young soldier with an engaging southern accent: Ray Fowler from Greer, SC. Ray was on leave from his Army outfit - the 292nd Joint Assault Signal Corp - and a fellow soldier having the peculiar nickname "Horizontal Randolf" convinced Ray to join him as a double date with Ann's roommate. The rest was history. Upon returning to duty, Ray began a written correspondence with Ann throughout the remainder of the war, made more challenging by the US Army occasionally redirecting mom's replies to a different Ray Fowler.

After the war ended, Ray returned to Washington and began courting Ann in earnest, proposing to her on the steps of the Jefferson Memorial in March 1946. That June, they were married at Saint Matthew's Cathedral in Washington, DC by Father Robert Louis Quinn, who – decades later - attended the couple's 50th wedding anniversary. They began their marriage in a 3rd floor apartment on M Street downtown, then two years later purchased a home in Landover, MD for the shocking price of $12,000, where they lived for 36 years until moving to Bowie, MD in 1984, and subsequently to Owings, MD in 2012.

Ray and Anne were a classic post-war, blue-collar couple who participated in the baby boom by producing us – the Fowler Family of Landover. We were eight rambunctious children: five boys and three girls. Dad worked as an electrician, worked on the house, cut the grass, cut our hair, fixed our bicycles, dished out occasional spankings, read us stories, and drove us and our elderly neighbors to Saint Mary's Catholic Church every Sunday in the large family station wagon. Mom raised the kids, helped us with homework, handled the family budget, bought our clothes and our groceries, cooked meals and set the kitchen on fire (twice), helped dad with the spankings, and managed our home. We had a wonderful childhood.

Mom was the perfect yin to dad's yang. During their rare differences of opinion, our mercurial father frequently erupted with fire and brimstone, while our mother remained serene and steadfast. Much as the skillful angler reels in a large angry fish, mom calmly and gently coaxed, prodded, and pulled until she had dad fully subdued. It was impressive to witness.

Our sweet mother was the embodiment of a living saint. She was pious, patient, and practical. She rarely raised her voice, and the closest she ever came to cursing was exclaiming in her New England accent, "oh, dahn it." Mom remained alert and active until the end, outliving her husband, all her siblings but one, her friends, and two of her children. She loved playing cards, watching baseball, working crossword puzzles and sudoku, and keeping track of her family on Facebook. Born before television, mom remembered the food lines of the Great Depression and hearing Roosevelt's Fireside Chats on the radio. She lived through the explosion of the Hindenburg and the attack on Pearl Harbor. She watched the moon landing and the plane striking the trade center on 9/11. And of late she endured the pandemic. Strikingly, just a few months before her death, she held her youngest great-grandchild on her lap, with nearly a century separating them.

Dearest mother, thank you for being you. It comforts us knowing that our beloved father finally has you by his side again where you belong. We choose not to grieve your loss, because we haven't lost you. Heaven has gained another angel, and we have gained 100 years of your love.

Goodbye mom, we love you forever.

Visitation will be held at St. Mary's Church, 7301 Annapolis Road, Landover Hills, MD on Tuesday, November 2 from 10:30 to 11:30 AM when the Funeral Mass will be celebrated.

The Mass will be livestreamed. Please click on the link below.
https://youtu.be/lFPFqu9zbBg

In lieu of flowers, the family asks that contributions be made to Saint Mary's Catholic Church, office address: 7401 Buchanan Street, Landover Hills, MD 20784.