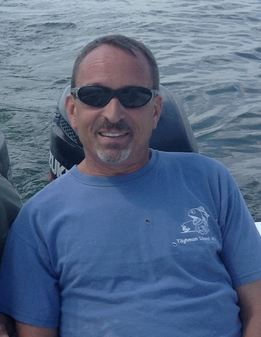 Roland Donat Pelletier, Jr., 57, of Chesapeake Beach passed away October 2, 2021. He was born December 19, 1963 in Washington, DC to Roland Donat Sr. and Patricia (Kaplan) Pelletier. Roland was raised in Clinton and attended Surratsville High School. He has lived in Calvert County since 1981. Roland worked in the family business, Roland's of Chesapeake Station, for many years. In his spare time, he enjoyed fishing, boating, riding motorcycles, gardening, cooking, and animals, especially his dog Rusty and cats Loco and Lulu. Roland was a hard worker and will be greatly missed.

Roland is survived by his son Roland D. Pelletier III of Sterling, VA, sisters Shirley Pelletier (Fran) of Chesapeake Beach and Sandra Pelletier Richnafsky (Gene) of Dunkirk, father Roland D. Pelletier, Sr. (Nancy) of Chesapeake Beach, former spouse Jennifer Kennedy, cousins Derek and Kyle Richnafsky and numerous aunts, uncles, cousins, and extended family. He was preceded in death by his mother Patricia Pelletier.

A Celebration of Life will be announced at a later date.