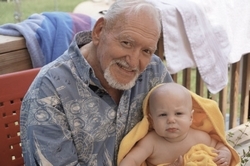 Joseph "Pop" Salvador Lagana, 82, of Temple Hills, Maryland passed away peacefully, surrounded by his family, at his sons home on Saturday August 28, 2021.

Joe is survived by his wife of 60 years, Sandy Lagana, son Mark Anthony Lagana, daughter in law Connie Lagana, grandson Brandon Joseph Lagana, granddaughter Ashley Lagana Milcetic and husband Matthew Milcetic, and great grandson Riley Townes Milcetic. He is preceded in death by his mother, father, stepfather, siblings, son Joseph Norman Lagana, and daughter in law Deborah Lagana.

Joe retired from the White House in 2001 where he worked in the maintenance department. He enjoyed his job at the White House and being kind to the first families. His favorite pass time was treasure hunting and to be at the flea market, where he enjoyed selling items but mostly spending time talking with people. He also enjoyed spending time at the pool with his grandchildren and family pets Olivia and Mickey. He was a very generous and kind man. All that met him fell in love with him.

He attended the Indian Head Church of the Nazarene with friends and family for many years. Joe was very active in the church and loved to come early to service to listen to the praise team practice their songs. He was also know to bring his guitar and join in on a song. He was very supportive of his church and excited to see the community center renovation.

Memorial contributions may be made to the Indian Head Church of the Nazarene at 35 Raymond Avenue, Indian Head, MD, 20640.