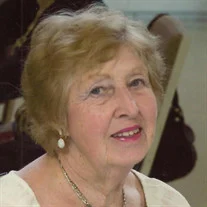 Alice LeRoux, passed away September 18, 2021, on her 88th birthday with her children present by her side at home in Huntingtown, MD. She was born in 1933, in Haverhill, MA to Alice and James Ryan.

She moved to Houston, TX and then to Maryland, where she resided in Riverdale, Lanham, and lastly Huntingtown.

Alice met her husband Norman LeRoux while working at American Security & Trust in Washington, DC in 1950. They married in 1952 and had eight children, Gene, Vern, Wayne, Brian, Paul, Rosemary, Stephen and Matthew.

Alice had been an active member at St. Bernard's Parish in Riverdale, MD, St. Jerome's in Hyattsville, MD and most recently Jesus the Divine Word in Huntingtown, MD. She enjoyed teaching CCD (Confraternity of Christian Doctrine), participating in prayer groups and was a faithful Eucharistic minister.

Alice attended the Prince Georges Community College and focused on her love of photography. She appreciated art photography and capturing life's most precious moments and images on film. She won many awards for her distinctive style at the Calvert County Fair in addition to the college.

Alice devoted her life as a wife, mother and participant in the Catholic faith. Her everlasting love for family and friends was unbounded and felt by everyone who met her.

Alice is survived by her sister, Jackie Jones; brother, David Ryan; eight children; six grandchildren; and three great grandchildren.
She was preceded in death by her husband, Norman in 1987 and her grandson Ryan LeRoux in 2021.

Donations may be made to Calvert Hospice, P.O. Box 838, Prince Frederick, MD.

The family will receive friends at Lee Funeral Home Calvert, 8200 Jennifer Lane Owings, MD 20736 on Thursday, September 23, 2021 from 5:00 pm – 8:00 pm. A Mass of Christian Burial will be celebrated at Jesus the Divine Word Catholic Church, 885 Cox Rd, Huntingtown, MD 20639 on Friday, September 24, 2021 at 11:00 am. Interment will follow at Southern Memorial Gardens Cemetery.