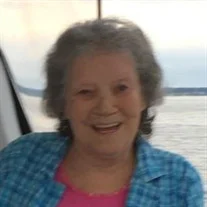 Joyce F. Green, 82, of Deale, MD passed away on September 14, 2021 in Annapolis, MD. Born on September 22, 1938 in Washington, D.C. she was the daughter of the late Lillian Disney Frohlich and Elmer H. Frohlich.

Joyce grew up in Hyattsville, MD where she met and married her beloved husband Richard H. Green and had two loving sons. They lived in Hyattsville until 1980 then relocated to Deale, MD. She was a hard working woman. Joyce retired from Citizen Bank after many years of loyal service. In later years she then took care of her grandchildren that she loved so dearly. Some of her favorite things to do were to eat crabs, going to the Casino, going out on a boat, traveling and having lunch with her High School Reunion Friends. She enjoyed going to Ocean City, MD with her son Richard and daughter-in-law Deanna. She also enjoyed going to Whitestone, VA with her son Charlie, daughter-in-law Abby and her grandchildren.

Mom we love you very much, may you rest in peace.

Joyce is survived by her two sons, Richard and Charles Green. Daughters-in-law; Deanna Green and Abby Green. Grandchildren; Christopher Foster, Jacob and Charlotte Green. Brother-in-law Robert Green. Sisters-in-Law; Peggy Lowe and Nancy Frohlich. Nieces and Nephews; Bobby Green, Kimmie Phenicie, Nikki Green, Chris Lowe, Ellen Kilpatrick and Betsy Frohlich. She was predeceased by her husband, Richard H. Green and parents Lillian and Elmer Frohlich.

The family will receive friends at Lee Funeral Home Calvert, 8200 Jennifer Lane, Owings, MD 20736 on Monday, September 20, 2021 from 3:00 PM – 7:00 PM where a Funeral Service will be held on Tuesday, September 21, 2021 at 11:00 AM in the Funeral Home Chapel.