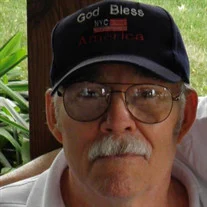 Raymond Lewis Hall of Owings, Maryland passed away peacefully on August 20, 2021 at the age of 81 with his daughter and son-in-law by his side.

Raymond was born in Washington, D.C. on September 13, 1939. He attended Bladensburg High School in 1958 with trade experience in printing. He went on to work for the Federal Government, in the printing field, for the Department of Agriculture. After his Federal Service he entered the private sector with Schultz Printing in Edgewater, MD, alongside his wife, Barbara.

Ray, (AKA Ray Ray, Old Man, Paw Paw and Road Dog) loved history, watching T.V., especially "Westerns", listening to music and of course the NY Yankees!!! Ray was an amateur numismatist. He loved to discuss coins with anyone, especially his brother, Jack, and his son-in-law, Kevin. He was a unique character. Many knew his funny stories and his many funny and crazy sayings. He could talk to people anywhere. Raymond Hall knew no stranger. One of his famous sayings, and the simplest was "Hide and watch me." There are way too many to remember.

Ray was the husband, to the late, Barbara Ann (McClelland) Hall for over 50 years. Ray was proceeded in death by his son, Keith David Hall. He is survived by his daughter Renee Lynn (Hall) Nieves, and her husband, Kevin Joel Nieves, he was "Paw Paw" to his grandchildren; Krista Noelle Hall, Kayla May (Drew) Westfall, and her husband, Jordan Westfall, Brandon K Joseph Nieves, Christian Michael Drew, and the "great-paw paw", to Aiden LanFranchi, Carter Grimley, Chase Cole, Gunner Smith and Abram Westfall. Ray is also survived by his brother Ronald "Jack" Hall, sister Virginia (Gorman) Denny, sister Bonnie (Hall) Griffin, and her husband, Jim Griffin.

The family will receive friends on Monday August 30, 2021 from 6-8 PM at Lee Funeral Home - Calvert, 8200 Jennifer Lane, Owings, MD 20736 A Graveside Service will held on August 31, 2021 at 11:00 AM in the Cemetery Chapel at Lakemont Memorial Gardens, 900 West Central Ave. Davidsonville, MD 21035, Interment will follow directly after the service.