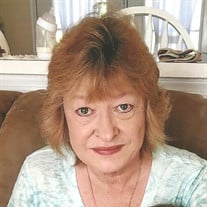 Cynthia Richardson of Huntingtown, MD passed away on Tuesday, August 17, 2021 at the age of 61.

She was born on August 7, 1960 in Washington, DC to the late John and Pauline Draugelis. She graduated from Parkdale High School and spent the rest of her adulthood in Maryland.

Cynthia will always be remembered as a loving wife, mother and friend. Her outgoing and loving attitude radiated around those who knew her. Her interests included family, animals, music and camping.

She is survived by her beloved husband, Mike Richardson, her son Michael and his wife Katelyn, two grandchildren; Ava and Rowan, her brother John Draugelis, his wife Evelyn and several more family and friends. She also held a special place in her heart for her Shar-pei Terrier, "Roxy".

Family invites friends to Lee Funeral Home Calvert, 8200 Jennifer Lane, Owings, MD 20736 on Wednesday, August 25th from 1:00 pm until start of Memorial Services at 2:00 pm.