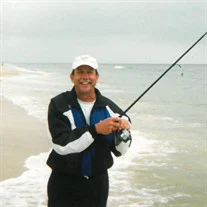 John Ellis passed away on Tuesday, August 17, 2021 at the age of 72. His 15-year battle with Parkinson's Disease showed his courage in facing life's challenges with a smile. Despite the difficulties brought on by the illness, John continued to spend time with his family and friends, enjoying the things that he loved such as traveling, boating, fishing, golfing, and crabbing. Born in Key West, John had a natural love for being on the water.

John served his country in the United States Air Force and the National Guard. He retired after 32 years of work with C&P, Bell Atlantic, and eventually Verizon telephone companies. After his retirement, John worked part time at Calvert Memorial Hospital as a parking valet doing what he loved the most, helping others and being social.

John was preceded in death by his parents, J.D. and Faye Ellis, his sister Judy, and his niece Chrissy. He met his wife, Betty, when she was 13 years old and they have been together ever since. In September 2020, they celebrated their 50th wedding anniversary. Together, they had two sons, John and Josh. His sons married, Audrey and Leslie. Josh and Leslie gave them three grandsons; Tyler, Joseph, and Jacob. He passed on his love for being on the water to all 'his boys'. Spending time with family and friends was one of John's greatest joys. John also had a special love for all the pups in his life; Keisha, Gidget and Jackson.

Visitation will be on August 27 from 5-7pm with a service at 7pm.

The Ellis family is asking that you post your fondest memory of John on his Tribute Wall at Lee Funeral Home's website. Flowers or donations are welcome.

Memorial contributions may be made in memory of John Ellis to: Hospice of St. Mary's - www.hospiceofstmarys.org/ways-to-give ~ OR ~ CalvertHealth Foundation, for the Calvert's Rock Steady Boxing Program - www.calverthealthfoundation.org/John-Wallace-Memorial-Fund.


Viewing
AUG 27. 5:00 PM - 7:00 PM (EST)
Lee Funeral Home Calvert
8200 Jennifer Lane
Owings, MD 20736

Service immediately following.