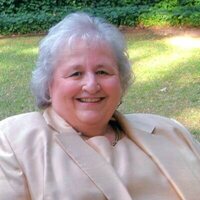 Joyce Lucille Thompson, 78, passed away peacefully on August 15, 2021, to join her beloved husband Charles in heaven. She was born October 26, 1942, in La Plata, Maryland to Lawrence A. Berry and Vera Mae "Hamilton" Long.

Joyce was a loving and devoted wife to Charles Willard Thompson (deceased) for 56 years and a devoted Mom to her four (4) children. She adored her grandchildren and always welcomed them in her tender, loving arms. From the early years of her marriage to Charles, until her death, she was a long-time resident of Mechanicsville, Maryland.

A devout Catholic, Joyce was a faithful woman who loved the Lord, her family, church and friends. She was known for her pure and kind heart, filled with unconditional love for everyone. She accepted God's plan for her life, even as she battled many health issues in her later years.

She is survived by her daughters Ella Beavers (Danny) of Thomson, GA; Patricia Copsey (David) of Mechanicsville, MD; and Michele Grassinger (Thomas) of Mechanicsville, MD, and her son Charles W. Thompson, Jr. (Barbara) of Mechanicsville, MD. She is also survived by her eight (8) grandchildren and two (2) great grandchildren. In addition, she is survived by her brothers, Laurence A. Berry (Roxanne) of Bryans Road, MD, and half-brother Thomas Harold Jacobs (Danita) of New Bern, NC. Joyce is preceded in death by both of her parents Lawrence A. Berry and Vera Mae Long.

The family will receive friends for Joyce's Life Celebration on Thursday August 26, 2021, from 5:00 pm to 8:00 pm at Brinsfield Funeral Home & Crematory, 30195 Three Notch Rd, Charlotte Hall, MD. Prayers will begin at 7:00 pm, officiated by Deacon Ammon Ripple.

On Friday, August 27, 2021, the family will be accepting friends and family for a Mass of Christian Burial at St. Joseph Catholic Church, 29119 Point Lookout Rd, Morganza, MD at 11:00 am, officiated by Father Michael Tiejen. Interment to follow immediately after at The Queen of Peace Cemetery at 38833 Chaptico Rd., Mechanicsville, MD.

Memorial contributions may be made to Bread of Life Center for Peace, PO Box 338, Leonardtown, MD 20650.

Condolences to the family may be expressed at www.brinsfieldfuneral.com.

Arrangements by the Brinsfield Funeral Home & Crematory, P.A., Charlotte Hall, MD.