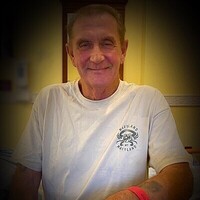 Steven Rene Tharpe, 61, of Lexington Park, MD departed this life peacefully on Friday, August 13, 2021 at Hospice House of St. Mary's with his family by his side. Steve was the youngest of nine children, he was born January 17, 1960 in Ridge, MD. He was the son of the late Claude Washington and Laura Gray Tharpe.

Steve was the beloved husband of the late Roxanne Tharpe whom he married on August 8, 1987. He's survived by their children: Jennifer, Audrey, and Steven Tharpe, Jr. all of Lexington Park, MD. His grandchildren are: Eddie Kline, Mark Barber, Makiya Beall, Kenny Buckler, Nathan Clements, Ja'mayia Dorsey, and Steven Tharpe, III.

His surviving siblings are: William Tharpe of Red Oak, VA, Robert Tharpe of Denham Springs, LA, Ann Grym of Bellmore, NY, and Darlene Tharpe of Lexington Park, MD. He is also survived by many nieces and nephews. He was preceded in death by his siblings: Ruth Quade, Joan Pulignano, Danny Tharpe, and Terry Tharpe.

Steve was a lifelong St. Mary's County resident and was a dedicated, hard-working Construction Superintendent for W.M.Davis General Contractor for almost 25 Years. Steve was an active member at Lexington Park Baptist Church. At church, Steve was well known as, "The quiet man that sat in the back pew, greeting everyone with a smile". He was proud to bring his grandchildren to church as well. Steve's faith in the Lord grew even stronger during the five weeks that he battled cancer.

Steve was very devoted to his grandchildren. He was more than just a "Pop-Pop," his life truly revolved around them. Ensuring that they were taken care of to the best of his abilities and always trying to teach them something new. He was a kind-hearted, gentle soul that loved to make people laugh and make the best of trials and tributes. He touched many lives and will truly be missed by all that knew him.

Family will receive friends for Steve's Life Celebration on Thursday, August 19, 2021 from 5:00-6:00 p.m. At the Brinsfield Funeral Home, 22955 Hollywood Road, Leonardtown, MD 20650. A Funeral Service will be at 6:00 p.m. with Pastor Chris McCombs officiating. Interment will be private.

In lieu of flowers, donations may be made in Steve's honor to Hospice House of St. Mary's, P.O. Box 625, Leonardtown, MD 20650.

Condolences to the family may be made at www.brinsfieldfuneral.com

Arrangements by the Brinsfield Funeral Home, P.A. in Leonardtown, MD 20650.